WHEN IN ROME is out on DVD – Read Roger Qbert's Review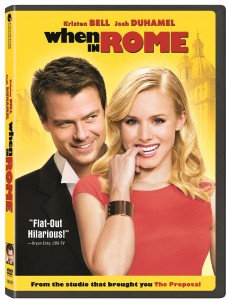 Kristen Bell stars in what has to be one of the most unintentionally creepy romantic-comedies of recent memory. In When in Rome she plays Beth, a young and single curator at the prestigious Guggenheim Museumin New York. Frustrated while at her younger sister's romantic Rome wedding, she drunkenly steals five coins from a "fountain of love." Unbeknownst to her, this disrupts the cupid-like power of the fountain and instead makes her the romantic focal point of each coin's original owner. Each "coin toss-er" is compulsively and uncontrollable drawn to her; madly in love with a someone who has no interest in them whatsoever. Beth spends the remainder of the film trying to dodge their unwanted advances while landing the man of her dreams. That's right folks…stalking is now cute.
Beth's overly-persistent suitors consist of Will Arnett as an Italian painter (with an accent like a pizza parlor mascot), Jon Heder as an overly dramatic street-magician wannabe, Dax Shepard as a vain male-model and Danny DeVito as lonely, recently divorced business-owner. Also in the mix is Nick (Josh Duhamel). You can tell he's the one she's supposed to be with because he's good looking and isn't written like a reject from a MADtv sketch.
The movie manages to muster up a few (though very few) laughs. But other than that, it progresses with the spontaneity of a bus schedule. In the end, the proceedings don't feel "predictable" as much as they do "preordained". And these problems are only compounded by the fact that the entire premise strains credulity. First and foremost, what are the odds that all five of the coins randomly plucked from the fountain would belong to men? Secondly, Beth is repeatedly tracked, stalked and monitored by these men. They show up at her workplace, they follow her on dates with other men; they even break into her apartment. And not once does she even contemplate calling the police. Only DeVito is able to instill his character with any amount of pathos. His is the only character who rises above the level of caricature or is able to shake the unsettling stink of "creepy" that besmirches all of Beth's other prospective paramours.
On a scale of 1 to 10, with 10 being Three Coins in a Fountainand 1 being Did You Hear About The Morgans, When in Rome gets a 4.