When Can You Download Splinter Cell Blacklist? And Ubisoft Wonders Why People Don't Use uPlay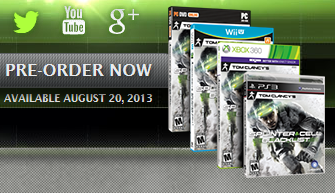 It is 5am central standard time on Tuesday, August 20 at the time of this writing. Tom Clancy's Splinter Cell Blacklist, the 6th installment in the franchise, is out today. Yet it is nowhere to be found.
If you pre-ordered the game via uPlay, the developer Ubisoft's online store, it has still yet to show up in the games section of your launcher. Their website still says "pre-order" all over it, and that the release date is August 20. And if you head over to Steam, it says "This game will unlock in approximately 7 hours." That would put it at noon CST. So why hasn't the game been available for download on uPlay to pre-load for weeks, and why doesn't it activate at midnight?
Companies like Ubisoft and EA wonder why people choose to run to Steam in flocks, over using their proprietary game managers (uPlay and Origin). But moves like these keep their software from gaining any traction (notice how I avoided the pun there). The way people get their games has drastically changed over the past several years. With the amount of games that are downloaded, whether it be for PC or for consoles, they should be available for download at least a week before the release date. It is not unusual for a game download to be around 10 to 20GB, which is going to take some time for the average internet connection. Why wait until the last minute to make everyone download at once, and delay the game another couple of hours?
Hopefully the game will be available around noon today. And with the confusion surrounding the title, maybe things will be different next time.
*Update* – as of 12:32pm CST I received an e-mail telling me that the game is available for download. It still is not showing up in my games library however.
Thank you for ordering on UBIShop. The product that you preordered is now available.
Product Name: Tom Clancy's Splinter Cell Blacklist™ Uplay Deluxe Edition
Platform: PC
Release Date: August 20, 2013
*Update #2* Because of all the confusion, Ubisoft actually posted a tutorial specifically outlining how to get your pre-ordered copy of Splinter Cell Blacklist here.
*Update #3* If you finally got the game downloaded and installed, but it won't start (goes straight to the "thank you for playing" screen) check out this link for the fix! kotaku.com