Weekend Sports Recap: Cardinals, Rasmus, Hall of Fame
Well, what a busy weekend. We'll start with the Cardinals' fight for first place with Pittsburgh (when's the last time anyone could write THAT?), and go through some of the trade rumors, and discuss baseball's Hall of Fame, which inducted three new members over the weekend.
* note* I was going to do a football post regarding the ending of the lockout, but I think that's worthy of a separate post, which I'll write soon.
Threeway
The Cardinals managed to hand over yesterday's game, losing 4-3 in 10 innings, but still managed to take two out of three this weekend. Milwaukee, Pittsburgh, and the Cardinals are now in a virtual three-way tie for first place, with mere percentage points between them.
Hopefully, any concerns about Albert Pujols' wrist have been allayed. In his last 11 games, Albert's hit .311 (14 for 45) with 5 HR and 13 RBI. His OBP has been .367 and his slugging .711 in that span. The Cardinals managed to score 18 runs while in Pittsburgh with Matt Holliday scuffling a bit at the plate. In his last ten games, he's hitting just .212 (7 for 33), slugging .273, and has three RBI. Fortunately, others have picked up the slack, as this lineup was designed to do. Lance Berkman has a little eight game hitting streak going, hitting .300 in that span with 3 HR and 6 RBI to go with a .633 slugging rate.
This race is gearing up to essentially be a four-horse marathon. Cincinnati lurks three games out, and they're looking to be buyers at the market the next week or so. Milwaukee's already made a splash, trading for closer/setup man Francisco Rodriguez to bolster the backend of their bullpen. Fans in St. Louis are clamoring for a pitching upgrade, which leads to my next point…
Colby for …?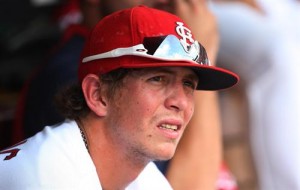 The last couple months haven't been the kindest to Colby Rasmus. He started the season on fire, ending April with a .301 average, a .374 OBP, and .450 SLG. Since, he's scuffled a bit and has taken a beating from sportswriters and fans alike. He's on pace for roughly 17 HR and 64 RBI, not too dissimilar from his rookie season but down from last year, when he hit .276 with 23 HR and had an OPS of .859. Colby has turned it on the last two games, though, with 2 HR and 4 RBI in his last two games. With the emergence of Jon Jay, currently hitting .311 with 7 HR and 25 RBI, Colby's name has come up recently in trade rumors, first with Tampa Bay (for starter Jeremy Hellickson, whom GM John Mozeliak has long coveted, or outfielder BJ Upton, a similar player to Rasmus with more speed) and now the White Sox (for starter Edwin Jackson).
Rasmus is a high-ceiling player and would essentially be a cheap starter for the next three years, as he is arbitration eligible after this year and won't see free agency for the next three.
Trading for a starter would actually kill two birds with one stone (in theory). Presumably, Kyle McClellan would drop from the rotation (given the amount of innings he's pitched already, this isn't entirely unexpected) and bolster a bullpen that's struggled to get the ball to their closer. McClellan was a terrific reliever the last three seasons, and his ability to get left-handers out AND go multiple innings cannot be overlooked. Mo's doing his diligence on this move, and I get the feeling he just wants to make sure that the team doesn't give up on Rasmus too early. The relationship between Rasmus and team has been somewhat acrimonious in recent years, however, and perhaps it's time to see if he can prosper in a different environment.
Hall of Fame?
On Sunday, the Baseball Hall of Fame inducted three new members: Roberto Alomar, a terrific defensive second baseman who also hit .300 for his career; Bert Blyleven, a starting pitcher whose career spanned three decades and struck out more than 3,700 hitters, and Pat Gillick, who built two World Series champions in Toronto and one in Philadelphia. Congratulations on the hard-earned accolades given to these men, as they were well-deserved.
As always, the conversation about the Hall of Fame digresses into a couple of different topics. With Derek Jeter reaching the 3,000 hit plateau this summer, the discussion of whether or not any player will be unanimously voted in came up. One Sports Illustrated writer opined that Jeter has the best shot of any current player, given his individual success and the five World Series his Yankees teams have won during his tenure.
Jeter's a terrific player, and he'll easily be a first-ballot HOF'er, but with all due respect, there are a handful of other players who endured similar or greater success, but didn't get 100% of the votes.
Most of these players can be recognized with only one name. Stan. Babe. Willie. Nolan. Ty. For the record, the highest percentage of votes in history belongs to Tom Seaver, who got 425 of 430 votes (98.84%). The chances are anyone makes it unanimously are pretty thin. There will always be a handful of voters who want the attention of denying a player the bid, and other questions such as PEDs might come into play, such as Alex Rodriguez. Even the greatest player of our generation, Pujols, will probably come into question for PEDs. A player such as Ken Griffey, Jr., has never been linked to PED usage, but he also never won a title. Many of the greatest in history never won a World Series (Ted Williams, Ty Cobb) so it shouldn't in theory affect him, but it will.
Going off on that, another topic that will be watched heavily the next few years will be the players linked to steroids and other PEDs.
Mark McGwire was among the first litmus tests, and he hasn't fared well so far. Rafael Palmeiro was pretty much ignored. Jeff Bagwell received some support and will most likely make it in eventually, but he got less than 50% his first year eligible. Joe Posnanski, perhaps my favorite sportswriter, brings up an interesting point: in 2013, three names that have been linked to PEDs will be added to the ballot: Barry Bonds, Sammy Sosa, and Roger Clemens.
For me, the question is not if players from the PED era will get in, but when. I'm quite anti-PED, and I'll never condone them, but the fact remains that many players were using them during this era, and these players stood head and shoulders above the rest. The fact that many players were using "greenies" (methamphetamines) during the 70's and 80's [which stars such as Hank Aaron and Willie Mays were linked to] didn't deter voters from selecting them. Cheating has long been a facet of the game ("if you ain't cheating, you ain't tryin'.") and although writers may take a hardline stance initially, my prediction is that down the road, the gates will open and these men will gain induction.