Enter for your chance to win a pass, good for two!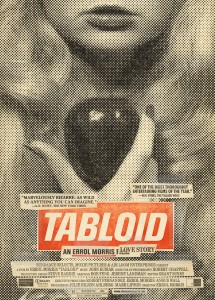 Thirty years before the antics of Lindsay Lohan and Britney Spears were regular gossip fodder, Miss Wyoming Joyce McKinney made her mark as a tabloid staple ne plus ultra. Morris follows the salacious adventures of this beauty queen with an IQ of 168 whose single-minded devotion to the man of her dreams leads her across the globe, into jail, and onto the front page. Joyce's labyrinthine crusade for love takes her through a surreal world of kidnapping, manacled Mormons, risque photography, magic underwear, and celestial sex-until her dream is finally realized in a cloning laboratory in Seoul, South Korea.
In order to enter the contest, become a fan of ReviewSTL on Facebook and share ReviewSTL.com with all your friends (click the "share" link on the bottom-left side of the page). Then leave a comment telling us what your headline would be if you made it into the tabloids – then like the post to complete your entry. NO PURCHASE NECESSARY. PLEASE REMEMBER TO READ THE RULES!
SCREENING IS WEDNESDAY, JULY 27 AT LANDMARK TIVOLI.
Good luck! We hope to see you at the movies!
[hdplay id=391]