Team USA vs Canada Olympic Gold Medal Hockey Game – Watch Online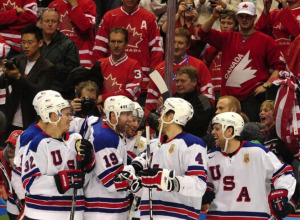 The moment many have been waiting for all during the 2010 Winter Olympics is finally here. Team USA will attempt to defeat Canada today for the gold medal in Men's Hockey.
Today at 2:15pm CST (12:15 PST), the US Men's Hockey team will face off against Canada for the second time this Winter Olympics. Last week, the US beat Canada 5-3, marking the first win against the team in 60 years. This afternoon, they will try to do it again. But this time around, the gold medal is at stake – and the Canadian Hockey team is not going to go down without a fight.
Will another miracle happen at the 2010 Winter Olympics? The last time the US won the gold medal in hockey was at Lake Placid 30 years ago, after beating the Soviet Union – who was considered the number one team in the world.  They went on to the championship game, to defeat Finland for the gold medal.  Many of you may have seen the 2004 movie "Miracle," about the famous victory starring Kurt Russel. Russel played Team USA coach Herb Brooks, who took an underdog group of college hockey players to the Olympics. Al Michaels asked the famous question during the match, "Do you believe in miracles?"  The answer is "Yes!"
Miracles are still alive, and let's hope that Team USA can bring home another win today.
Click to Watch the Olympic Gold Medal Game Live Online.