Watch the Tiger Woods Dirty Voicemail Slow Jam Remix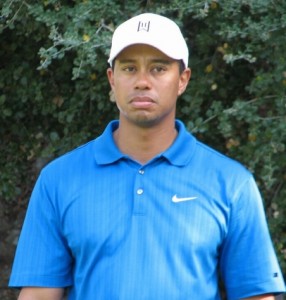 Over the last couple of weeks, Tiger Woods has been all over the media. The "Tigergate" scandal has flooded television, radio, internet – making it hard not to have heard about it. But in case you have been living under a rock, or have been on a space shuttle mission to mars and have just returened, here is a summary of what is going on in ol' Tiger's life:
On November 27, 2009, Tiger Woods had a car accident involving a hedge, fire hydrant, and finally running into a tree in his neighborhood.
Tiger would not release any information, but speculation from many points the finger at his wife, chasing him down with a golf club over an alleged affair with nightclub manager Rachel Uchitel.
Tiger denied allegations, and stated that they were "irresponsible."
Coctail waitress Jaimee Grubbs made it public that she was having an affair with Woods for 2 1/2 years. She released voicemail and text messages from Tiger.
Since then, three new allegations of affairs have appeared in the media with other women.
Of course, Tiger has made the rounds across all of the network late night television shows, as well as across the web.  Here is the video of the "Tiger Woods Dirty Voicemail Slow Jam Remix," created from the voicemail message that Tiger left on Jamiee Grubb's answering machine:
Music by Trevor Cushman
Video by Al LeVine
Produced by: http://www.HalfDayToday.com