Watch Robert Pattinson Featurette, 'Shower' and 'Dessert' Videos From REMEMBER ME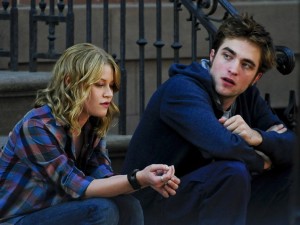 Robert Pattinson stars alongside "Lost" actress Emilie de Raven in the upcoming film "Rememeber Me."
In the movie, Pattinson plays Tyler – a rebellious young man in New York City, who distances himself from his father after tragedy struck his family. One day Tyler Meets a girl named Ally, played by Emilie de Raven, who opens his eyes to the world. Even though he wasn't looking for anything serious, love finds the two of them becoming closer and closer together – until secrets are revealed that threaten to tear the two apart.
Below is a featurette on Robert Pattinson, and the making of "Remember Me."
Watch two brand new clips from "Remember Me" Below!