HOT TUB TIME MACHINE Cast Makes $10k Donation at Baltimore Polar Bear Plunge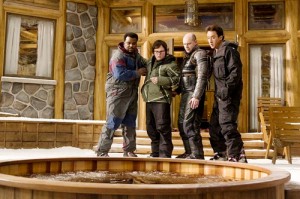 So here is something that I never new existed before seeing this video. In Baltimore every year, the highest raised donation for the Special Olympics comes from an event called the "Polar Bear Plunge." It consists of participants standing outside, in the snow, wearing nothing but their bathing suits. But wait – there's more. Then in the freezing weather they take it up a notch, as they all run into the water!
Craig Robinson, Clark Duke, and Rob Corddry from the upcoming comedy "Hot Tub Time Machine" were in town for this year's Polar Bear Plunge.
Watch the video, and see if any of them decided to jump into the water!
Synopsis:
A group of best friends have become bored with their adult lives: Adam has been dumped by his girlfriend; Lou is a party guy who can't find the party; Nick's wife controls his every move; and video game-obsessed Jacob won't leave his basement. After a crazy night of drinking in a ski resort hot tub, the men wake up, heads pounding, in the year 1986. This is their chance to kick some past and change their futures – one will find a new love life, one will learn to stand up for himself with the ladies, one will find his mojo, and one will make sure he still exists!
HOT TUB TIME MACHINE opens in theaters nationwide March 26, 2010!