Watch "Paul" International Trailer – Simon Pegg, Seth Rogen, Kristen Wiig, and Nick Frost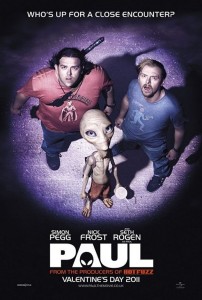 I have mixed feelings on this one. While on one hand I think this looks hilarious, and I absolutely love the cast; on the other hand I don't think many people are going to pay to go see it. The biggest star in the film is the one supplying the voice for the main character. Everyone else is solid, but have yet to do much damage at the box office when they are the leads.  I think this might be another one of those brilliant comedies that doesn't find an audience, much like this year's Kick-Ass and Scott Pilgrim vs. The World.
Synopsis:
While traveling to a comic book convention on the West Coast, two geeky British friends encounter an alien named Paul.
Starring: Simon Pegg, Nick Frost, Seth Rogen, Jason Bateman, Kristen Wiig, Jane Lynch, Sigourney Weaver
Directed by: Greg Mottola
Produced by: Liza Chasin, Debra Hayward, Eric Fellner
Genres: Comedy and Science Fiction/Fantasy
Release Date: March 18, 2011
[hdplay id=245 width=595 height=375]