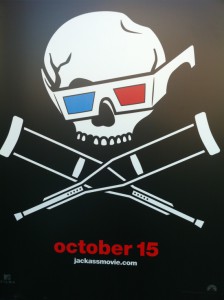 Just when you thought that 3D was getting out of hand… Johnny Knoxville and the crew decided to make "Jackass 3D."
If you are a fan of the "Jackass" movie and TV show, it looks like this 3D spectacle might be a lot of fun. Thankfully, the film was shot entirely in 3D — none of the terrible post-filming 3D conversion. Some movies just don't work in 3D – but I think that this might be just what is called for. From the trailer, it looks like there are going to be quite a few fun shots that will incorporate the technology.
Synopsis:
The JACKASS pranksters are at it again in this third outing presented for the first time in 3D — an effect that will no doubt redefine the use of the in-your-face technology. Once again Jeff Tremaine returns to direct the MTV Films/Paramount Pictures production.
Watch the new HD trailer for "Jackass 3D" below:
[hdplay id=110 width=595 height=375]