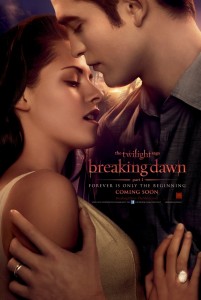 The new full trailer for The Twilight Saga: Breaking Dawn: Part 1 is now out. This is the fourth film in the series, based off of the popular novels by Stephenie Meyer, and will be split into two separate films. Bill Condon (Dreamgirls, Gods and Monsters) will direct both of the final films.
The film is set to release nationwide on November 18, 2011.
Synopsis: Bella and Edward, plus those they love, must deal with the chain of consequences brought on by a marriage, honeymoon, and the tumultuous birth of a child… which brings an unforeseen and shocking development for Jacob Black.
STARRING: Kristen Stewart, Robert Pattinson, Taylor Lautner, Ashley Greene, Jackson Rathbone, Nikki Reed, Kellan Lutz, Peter Facinelli, Elizabeth Reaser, Maggie Grace, Mia Maestro
DIRECTED BY: Bill Condon
Watch the HD trailer for 'The Twilight Saga: Breaking Dawn: Part 1' Below:
[hdplay id=418]