Watch Mel Gibson's "The Beaver" HD Trailer – Can Mel Redeem Himself?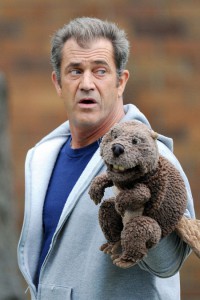 The name Mel Gibson leaves a pretty bad taste in your mouth about now. Over the past several years, the guy has just seemed to have lost it. He goes on drunken anti-semitic rants, racist tirades – and just seems to be spouting out the most hateful crap you have ever heard.
Click here to listen to Gibson's audio tirade against then girlfriend Oksana Grigorieva.
Well, now Gibson has a new movie coming out. And it is actually getting some pretty good praise. The film is titled "The Beaver," and is directed by Gibson's long-time friend Jodie Foster. Will this be enough to dig the famous actor out of the hole he dug himself? Personally, I feel pretty sorry for the other actors in the film; Anton Yelchin and Jodie Foster are going to feel the backlash as well if it isn't a success. Just being guilty by association may be enough to do some damage. But at the end of the day, it's a gig.
Here is the synopsis:
Plagued by his own demons, Walter Black was once a successful toy executive and family man who now suffers from depression. No matter what he tries, Walter can't seem to get himself back on track… until a beaver hand puppet enters his life.
Watch the HD Trailer for "The Beaver" –
[hdplay id=214 width=595 height=375]