Watch Jeff Bridges Host SNL, Musical Guests Eminem and Lil Wayne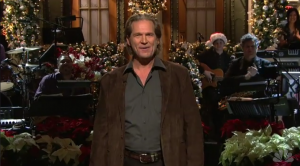 Jeff Bridges, star of Disney's new film "Tron: Legacy" hosted Saturday Night Live last night. Musical guests included Eminem and Lil Wayne. Here are some of the skits from the show:
White House Christmas Cold Open
This Christmas season has democrats dreaming of much merrier headlines in 2011.
A Message from Mastercard
WikiLeaks founder Julian Assange broadcasts from jail with some insight to what will happen if he's not freed.
It's a Wonderful Life
You probably didn't know 'It's A Wonderful Life' was originally created as a Chanukah film.
Miley Cyrus Show
Miley Cyrus uses her pretty cool show to address her drug scandal and talk to Nick Nolte.
General Store
An old West general store has some quirky gift wrappers who thwart a robbery with their talent.
Happy Holidays from the Kardashians
Kim, Kourtney and Khloe are wishing everyone happy holidays and share what they're thankful for.
A Message from Mark Zuckerberg
WikiLeaks founder Julian Assange compares his resume to Mark Zuckerberg, the 2010 Time Person of the Year.
Jeff's Prank Show
Among Jeff Bridges many talents is the ability to prank his celebrity friends.
Underground Holiday Event
If there's one holiday party you need to attend, it's this one.
Larry King Live
Larry King interviews Dog The Bounty Hunter and other notable guests as time on his CNN quickly runs out.
Watch Jeff Bridges host Saturday Night Live with musical guests Eminem and Lil Wayne: