Watch "Fallout: New Vegas" HD Trailer From E3 2010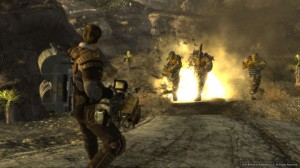 If you have never played Fallout 3,
do yourself a favor and buy it (or the newer Fallout 3: Game of The Year Edition
). It is the kind of game that you can spend hours and hours leveling up your character and exploring vast world, and not realize that all of a sudden it is 4am.
Once you've played Fallout 3, you will surely be more than ready for what's next. I know that I have been for the better part of a year now. Well, thanks to E3 the wait is getting just a little easier. Check out the new trailer for "Fallout: New Vegas" below:
[hdplay id=22 width=595 height=375 ]
Set for a release date of October 19, 2010, Fallout New Vegas
promises to be everything that we loves about the last game – and much more. From Bethsoft's website, the makers of "Fallout," here is what we can expect:
Experience all the sights and sounds of fabulous New Vegas, brought to you by Vault-Tec, America's First Choice in Post Nuclear Simulation. Explore the treacherous wastes of the Great Southwest from the safety and comfort of your very own vault: Meet new people, confront terrifying creatures, and arm yourself with the latest high-tech weaponry as you make a name for yourself on a thrilling new journey across the Mojave wasteland. A word of warning, however – while Vault-Tec engineers have prepared for every contingency,* in Vegas, fortunes can change in an instant. Enjoy your stay.
"Fallout: New Vegas" will be released for XBOX 360, PLAYSTATION 3, and Windows. For more information, visit Bethsoft.com.