Warner Bros. Snaps up Zach Galifianakis and Will Ferrell Political Comedy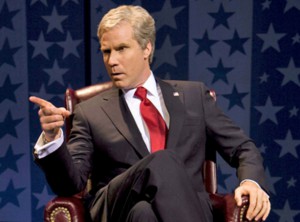 Yup, you read that correctly. Two of Hollywood's hottest comedic properties are teaming up for a political comedy directed by Dinner for Schmucks director Jay Roach. The pitch package was the subject of an intense bidding war that left Warner Bros. standing as the victor.
The comedy pits Ferrell and Galifianakis as political rivals in a US Presidential election. The film is going to be timed to coincide with the heating up of the 2012 political race. The film is being written by Chris Henchy who previously penned Ferrell's last comedy, The Other Guys.  Shawn Harwell, a writer for HBO's Eastbound & Down will also be contributing on the script. Ferrell will be producing the film with long time comedy partner, Adam McKay, under their company Gary Sanchez Productions, along with Galifianakis, and Jay Roach with his Everyman Pictures production company.
I personally see these two on downward trend in Hollywood, mainly due to the overexposure of both actors, but teaming them up should make for an impressive sight.  A presidential candidate seems out of type for both, but until I see a trailer I won't know how to take it. On paper it sounds great, lets just hope the writers can deliver. The next challenge will be making sure Ferrell and Galifianakis can be convincing as political leaders. Ferrell has the head start having played George W. Bush in many different incarnations over the past decade.
What do you think? Let us know in the comments.