"Walking Dead" Coming to DVD and Blu-Ray Soon, Details Revealed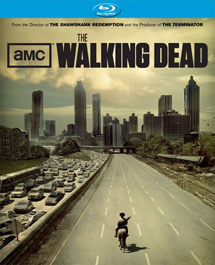 I know I was certainly not in the minority in my love for the recent television series The Walking Dead.  AMC ordered a second season after just one episode aired.  Fans everywhere rejoiced at that news.  Unfortunately, the second season will not air until next September. 
But fear not.  The DVD/ Blu-Ray of the first season will be in your homes before you know it.  March to be exact.  And what exactly can you expect from the two disc set outside of the first six episodes.  The set will contain audio commentaries, making of webisodes, and behind the scenes footage. 
More details will be released about these special features.  But for now that should wet your appetite.  If not, here is the cover of the Blu-Ray.  I gotta say I love the image which is nothing new.  AMC has been using it all season.
Are you a fan of the show?  Will you tune in for season 2?  Let us know in the comments below.