Visit ReviewSTL at the Petropolis Carnival and Win Prizes!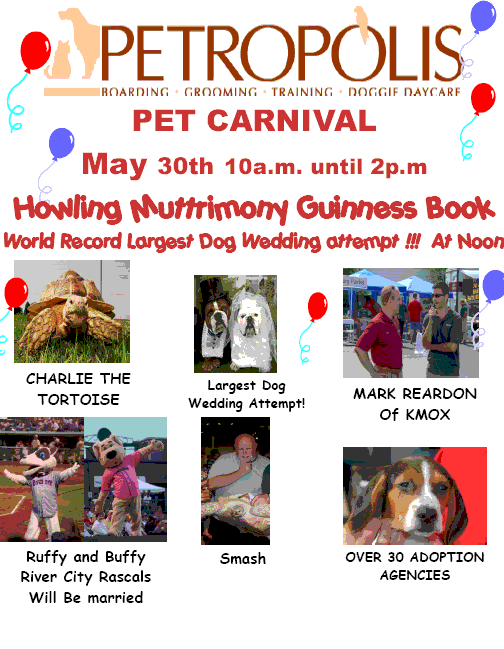 Join ReviewSTL at the annual Petropolis Pet Carnival, coming up on May 30.  Feel free to bring your dogs, and stop by for a chance to win free prizes from TERMINATOR SALVATION!
We will be having a drawing to win free memorabilia from Terminator Salvation, like: hats, shirts, coasters, glasses, posters, and more!
Mark Reardon from KMOX and Smash from KLOU are going to be in attendance!
It is going to be a lot of fun!  There are going to be over 30 animal rescue groups present, so help support their cause!  Also, Barret Jackman from the St. Louis Blues will be in attendance – so bring your hockey gear!
"On May 30th, we will be having our sixth annual Pet Carnival. We will have over 30 adoption group in attendance! This Year we are going to try to break the Guinness Book of World Records for the largest mass Dog Wedding. We need at least 179 dog couples so we hope to have at least 400 dogs get married. All you have to do to sign up is go to www.petropolis.com and fill our the registration form – then fax it to Brad Watts at 636-537-0895! If you have a single pooch please bring them out we will have a speed dating area. Come out and Join in the Fun and hopefully we can break this Record!
Thanks,
Brad Watts
[email protected]
Petropolis"
Petropolis is located in Chesterfield:
Petropolis
16830 Chesterfield Airport Rd
Chesterfield, MO 63005
(636) 537-2322
Get directions
… and don't forget to go and see TERMINATOR SALVATION, in theaters now! For more information about the movie, visit the official website at terminatorsalvation.warnerbros.com.