Visit Body Worlds & the Brain 2011 at the St. Louis Science Center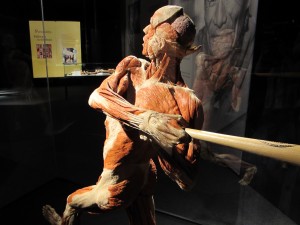 BODY WORLDS & THE BRAIN MEMBER MORNINGS DISCOUNT EXTENDED THROUGH OCTOBER 5
Science Center Members have the chance to save up to 62% on tickets from 9:30 – 11:30am (note: This offer may not be combined with any other offers; tickets subject to availability). For discounted tickets, call 314.289.4424 or 800.456.SLSC x 4424.
Don't miss your chance to win a set of tickets to see Body Worlds & the Brain at the St. Louis Science Center! Check out the contest at the bottom of the article.
---
Being a licensed massage therapist, I am extremely well educated on the human body. I know how it all works together and how everything looks from the outside. But recently I was given the opportunity to go on a private tour of one of the most controversial yet intriguing displays of the human body on earth today. I am talking about Gunther von Hagen's incredible Body Worlds which is currently touring here at the Saint Louis Science Center until October 2011. I was also lucky enough to get to spend time with the original Managing Director Dr. Angelina Whalley from Germany.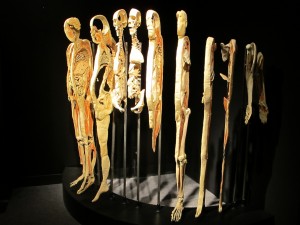 If you have not heard of this exhibition, you do not know what to expect. All I really knew was that there would be muscular skeletons and medical slices of the human body on display. I did not know anything about the method in which these bodies were prepared or how they would be shown. As I walked thru the entrance, I see a regular wired skeleton, just like we have all seen in a science class or two…nothing unusual. The lighting is bright, but not harsh. There is wonderful music playing and it will sooth you as you walk thru the entire exhibition. There are display cases set up, with bone structures and explanations as to where they come from and what they are. You then see the first full body in a glass case. The body is in a pose, as if it was literally frozen in the movement. The only surprising thing is that there is no skin on the body, only the muscles and skeleton are there to see. Let me say this. It is not meant to be scary in any way, but educational. There is no blood or goriness. In fact, I was happily surprised by the respectfulness that is given to each and every body or part that is on display. And around every wall there is a beautiful banner with thoughtful quotes on each. Each body on display has a story, not only in the words under every description, but also in the way they are captured in movement.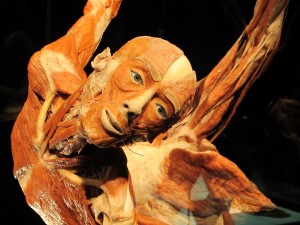 All these bodies are actual real people that have donated their bodies to the project after their demise. It is done through a special procedure called "plastination". Dr. Gunther von Hagen invented it back in 1995 in Germany, where he worked at University at that time. To make it as simple as possible, all liquids are removed from a body after death and acetone and then silicon is replaced into the body. This makes the body able to be posed and/or cut into slices that can show every single nerve or muscle in the body. It is simply the next step in human anatomy. As you finish walking thru the exhibit you are encouraged to write your thoughts in the guestbook, which I took the time to read a few inserts from people. Everyone seems so grateful to be able to see the human body in this way. I really encourage people to take the time to go explore what we are, from the inside.
Go to www.slsc.org for tour information, or go to www.bodyworlds.com for more detailed information on the processes and exhibits themselves.
Review (c) 2011 Stephe Raven | [email protected]
---
ReviewSTL.com is giving our readers the chance to win tickets to see the Body Worlds & the Brain at the St. Louis Science Center! In order to enter the contest, become a fan of ReviewSTL on Facebook and share ReviewSTL.com with all your friends (click the "share" link on the bottom-left side of the page). Then leave a comment under the contest post, telling us your favorite part of the St. Louis Science Center and why you love it! Then like the post to complete your entry. NO PURCHASE NECESSARY. PLEASE REMEMBER TO READ THE RULES!