USA Beats Canada – Do You Believe in Miracles?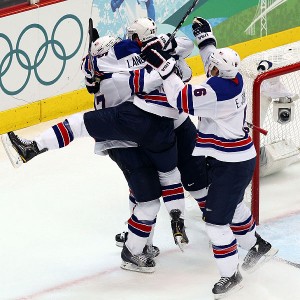 I've endured talk with certain people over the past couple months since Team USA was announced, about how USA didn't stand a chance against strong clubs like Canada and Russia, and their best chance to medal is at bronze level.  Everyone told me Team Canada is just too strong, just about everyone on their roster is All Star level player. Well, Team USA may not have captured a medal yet, but they did silence a lot of their critics with a 5-3 win over Team Canada Sunday night at the 2010 Vancouver Olympics.
It may not be the same as the Miracle on Ice against the Soviets, but much about it feels the same. It doesn't have the same Cold War overtones that the famous game against the Soviets did, but that doesn't stop people from comparing. It was a USA team that was meant to fall to a far superior on paper Team Canada. With this win Team USA has a shot for the top seed in the medal round, and Team Canada faces elimination in a game against Germany.
I wouldn't get cocky now though. Team USA still has a long way to go towards its medal, but doesn't it feel good to be on the way? We might meet up with the mighty Canada once again, and what an emotional match up it will be.
Note: How bout them Blues? Go Erik Johnson and David Backes!