Upgrade iPhone 3.0 Firmware | Activation Server Temporarily Down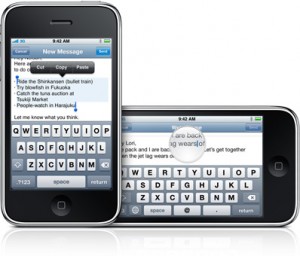 Well, it looks like those of us who have been waiting for the new iPhone 3.0 firmware upgrade (that just released hours ago today) will have to wait a little longer…
For iPhone users who have been anticipating the 3.0 firmware for months, and have downloaded iTunes 8.2, an error message is not appearing stating that their iphone…
"cannot be updated at this time because the iPhone activation server is temporarily unavailable. Please Try again later."
This is not good news for those of us who have been waiting months, or even years now, to simply "copy and paste" or send multimedia messages. For goodness sakes… I just want a widescreen keyboard when I text message so that I don't press the wrong buttons. Here is a list of the main features that will be added to the iPhone in the 3.0 firmware:
Cut, Copy & Paste – Quickly and easily cut, copy, and paste text from application to application. Select entire blocks of web text with a tap. Copy and paste images from the web, too.
Landscape Keyboard – Want more room to type? Rotate iPhone to landscape to use a larger keyboard in Mail, Messages, Notes, and Safari.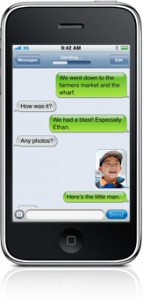 MMS – Send MMS messages and include video, photos, audio, and contact info.2 Even tap to snap a picture or shoot a video right inside Messages.MMS support from AT&T coming in late summer.
Spotlight Search – Find what you're looking for across your iPhone, all from one place. Spotlight searches all of your contacts, email, calendars, and notes, as well as everything in your iPod.
Voice Memos – Capture a memo, a meeting, or any audio recording on the go. Voice Memos works with the built-in iPhone microphone or with the mic on your headset.
Improved Calendar – Create meetings via Microsoft Exchange ActiveSync and subscribe to calendars with new CalDAV support.
Buy Movies, TV Shows, and Audiobooks – Download movies, TV shows, music videos, and audiobooks from the iTunes Store on your iPhone.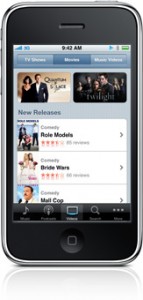 Enhanced Stocks App – Get more at-a-glance information and view charts in landscape.
Hopefully it won't be too long before the new 3.0 firmware will properly install and activate. We haven't heard any information from Apple, but the outage is surely down on behalf of the insane amount of people who own iPhones and want to upgrade.