Rascal Flatts Concert – Unstoppable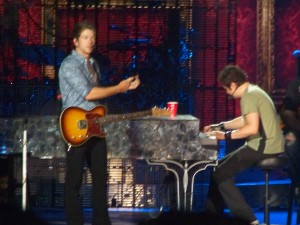 "Unstoppable." Is the Way Rascal Flatts started their Summer tour in St. louis on June 6th and They kept the beat up all night. The show didn't take too many risks opening with "Summer Nights" from their new album, to get the night off to a rocking start.
The intensity never stopped! They Followed the opening number with Favorites "Stand", Fast Cars and Freedom", "Me and My Gang", and "Bless the Broken Road" Lead Singer Gary LeVox did not let St. Louis Fans down as his Voice Rocked while he was on stage.
During a break for LeVox, Bassist Jay DeMarcus guitarist Joe Don Rooney did a nice calm down segment from a front Porch looking set up. DeMarcus on piano and Rooney on Guitar along with a drummer sang "Mayberry", and then into "Lean on Me", followed by "Backwards". Then LeVox came back for "Praying for daylight" and "Here Comes Goodbye"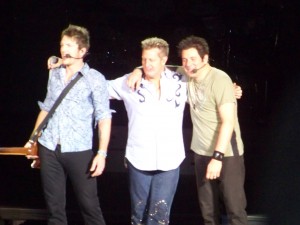 The Trio backed by a four-piece band, was in constant motion on a multi-level stage that featured four Large video screens that exploded with Videos, abstract images, and even Moving Pictures that made you feel like you were flying. They started to rock with "Melt", Rooftop" Take me there", and a moving rendition of "My Wish" with video clips from Make a wish Foundation. Finishing the main show with "What hurts the Most", and "Bob that Head" The Trio kept everyone on their Feet throughout the show. High Energy and a great stage presence including the boys signing autographs for those lucky fans during the performance.
The Encore Started with a rendition of the Beatles "Revolution", then out can Darius Rucker for "Hold My Hand" and finally "Life is a Highway"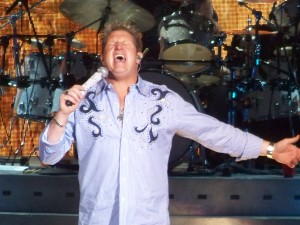 Overall the Flatts did a great Show their opening Act Rucker performed great as well. You don't have to be a Country Fan to enjoy the Flatts. They open you up to lots of music, and have a great energy. I would grade the Concert a B+
Thank you to Billy Greenwood, of 93.7 The Bull, for providing tickets to the concert.