Universal Making A Fifth "Fast & Furious" Movie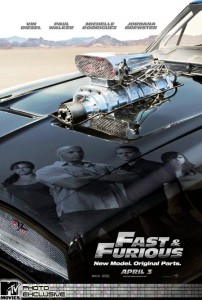 This is really no surprise when you look at it. Fast & Furious was Universal's top grosser last year, with a worldwide gross of  $343 million.  Add on top of that the nearly stagnant careers of its stars, Paul Walker and Vin Diesel, it was almost a guarantee that the film would be back for yet another sequel. Anytime you have Vin Diesel working in a project, you never know if he will sign on for a sequel.
Justin Lin will be back to direct the film, his third time in the director's chair for the popular series. The films is due to start filming this year to prepare for a 2011 release date. The film is said to follow Walker and Diesel's characters as they are on the run from the law.  Where this puts Justin Lin's Highlander remake project, I don't know? I was looking to see a new take on the series that has become bloated, and a bit fanciful.
Will you be back to see a new Fast and Furious film? Would you rather see Lin make a Highlander film?