Twitter Down Due to Denial-of-Service Attack, from CNET
It's kind of ironic – Twitter is by far the most popular way to communicate with people on the internet at the moment. Internet fads come, and go – but Twitter is now being used by celebrities, news media, businesses, friends, family… you name it! So the question is…
HOW DO YOU TELL PEOPLE TWITTER IS DOWN?
I guess people fill find out eventually. Weird though… you would think that the site / servers would be beefy enough to withstand something like a denial of service attack – change the IP, block the attack, you name it… oh well, hopefully it will be back up soon for the health of it's users 🙂
---
From CNET:
by Caroline McCarthy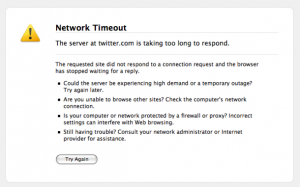 Twitter was inaccessible for several hours on Thursday morning, followed by a period of slowness and sporadic timeouts (and more outright downtime). The company is blaming an "ongoing" denial-of-service (DOS) attack but has not said anything further.
Judging by the timeline of my TweetDeck client, it looks like the problems started right around 6:00 a.m. PDT.
"We are determining the cause and will provide an update shortly," Twitter's staff posted at 6:43 a.m. PDT on the service's status blog.
Then, around 7:49 a.m. PT, the company posted, "We are defending against a denial-of-service attack, and will update status again shortly."
Around 8:15 a.m., the status blog post was updated with "The site is back up, but we are continuing to defend against and recover from this attack." (I still was unable to access Twitter.)
Way back when, Twitter outages were so commonplace that it was worth reporting when it didn't crash–as when it stayed afloat during the entire South by Southwest Interactive Festival in 2008. Now, a few million dollars of venture capital later, the service is far more stable.
This is problematic, because Twitter wants to establish itself as a communications standard rather than just a social-media brand. It's been a crucial platform for information exchange in the face of global events where more traditional means of broadcasting have been inaccessible or blocked.
Some features of Facebook were also experiencing uptime issues on Thursday–one reader speculated that login servers may have been down–which raises the issue of whether a hosting company problem is to blame. Alternately, a denial-of-service attack could have been targeting both high-profile companies.
Facebook is "looking into" the outages, spokeswoman Brandee Barker said in an e-mail.
A denial-of-service attack occurs when hackers overload a Web service's infrastructure with data, making its servers slow to a crawl or crash altogether.
There have been a notable number of DOS attacks recently in the social-media space: On Wednesday, URL shortener Tr.im claims that one such attack rendered its truncated URLs inaccessible for some time; earlier in the week, blog network Gawker Media was downed by an attack that targeted The Consumerist, a property that it recently sold but still hosts on its servers.
There has been no indication that any of these various attacks are connected. But it's probably not a coincidence that they all coincide with the annual Defcon hacker convention.