Steven Tyler from Aerosmith Falls Off Stage, Hospitalized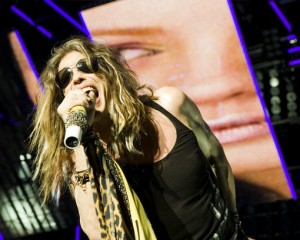 Yesterday while on their 2009 summer tour, Aerosmith's front-man Steven Tyler fell off the stage. The band was performing in Rapid City, South Dakota, when Tyler's fall landed him a helicopter ride to the hospital.
The Associated Press reports that Tyler was dancing to entertain the crowd, while their sound system temporarily went down. Tyler was able to get up and was in good spirits, but ended up with minor head, neck, and shoulder injuries. The show ended after the fall.