Twilight Saga: Eclipse HD Trailer! Watch it Here!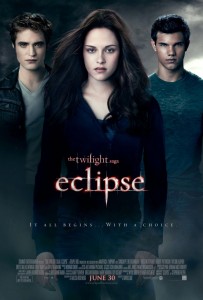 I've said many times how I've read the Twilight series, and just couldn't get into them. Although, after reading them I thought the third book would make for the best adaptation. If the new trailer for Eclipse is any indication, then it looks like I'm right. This one looks to be the most action packed of the series, and sets it up for its slightly ludicrous final showdown in Breaking Dawn.
The special effects still look a bit cheesy, but I'm sure the many boyfriends who will be dragged to see this film won't mind a bit of bad CG, as long as there is action.  The trailer gets a bigger thumbs up from me than New Moon, which shamelessly exploited the fact there would be a shirtless Taylor Lautner. This time they decided to go a bit more tame, and I appreciate it.
Synopsis:
In ECLIPSE, Bella once again finds herself surrounded by danger as Seattle is ravaged by a string of mysterious killings and a malicious vampire continues her quest for revenge. In the midst of it all, she is forced to choose between her love for Edward and her friendship with Jacob — knowing that her decision has the potential to ignite the ageless struggle between vampire and werewolf. With her graduation quickly approaching, Bella is confronted with the most important decision of her life.
Starring: Kristen Stewart, Robert Pattinson, Taylor Lautner, Ashley Greene, Bryce Dallas Howard
Directed by: David Slade
Produced by: Marty Bowen, Wyck Godfrey
Release Date: June 30, 2010