Poison Frontman, Bret Michaels, In Critical Condition After Brain Hemorrhage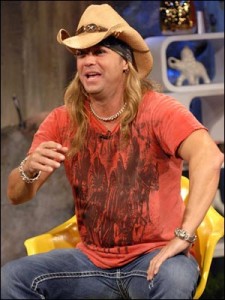 Reality TV Star and front man for heavy metal hair band, Poison, Bret Michaels suffered a massive brain hemorrhage after being taken to the hospital after complaining of an excruciating headache.
The rocker was rushed to the hospital just before midnight where he was diagnosed with  a massive subarachnoid hemorrhage, which is a bleed at the base of his brain stem.
"We will have no additional information until further testing is done," his rep says.
The rocker who is currently in intensive care was also in the hospital earlier this month for an emergency appendectomy. Micheals was kept a few days extra for supervision. No word on if his latest problems have stemmed from his earlier complications.
We will keep you updated as more news comes out.