TWILIGHT NEW MOON Breaks Opening Day Record and Claims Third Highest Weekend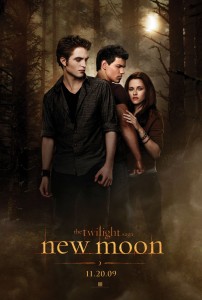 It's official – THE TWILIGHT SAGA: NEW MOON has broken some big box office records during its first weekend in theaters.
According to Box Office Mojo, the film brought in $72.7 million opening day alone. NEW MOON opened on 8,500 screens across 4,024 theaters in the US. This 'eclipsed' THE DARK KNIGHT, which previously held the title after earning $67.2 million in 2008. This is in addition to breaking the record for highest grossing midnight showing, bringing in $26.3 million over DARK KNIGHT's $18.5 million.
NEW MOON, the second film in the series adapted from Stephanie Meyer's four "TWILIGHT" novels, reportedly had a budget of $50 million dollars. This was recovered almost three times over during the weekend, bringing in an estimated $140.7 million dollars. But it wasn't enough to knock THE DARK KNIGHT out of first place this time, as it still holds the title for biggest opening weekend at $158.4 million. NEW MOON is third to SPIDER-MAN 3, which had a $151.1 million dollar opening weekend.
So the question is – will THE TWILIGHT SAGA: NEW MOON be able to keep its box office numbers up during the next week? Many are saying that fans of the series will have already seen it by the end of the first weekend, and that the numbers will take a significant drop next week. Either way, the movie is a tremendous success for Summit Entertainment, which will be releasing the third film in the series only 6 months from now. THE TWILIGHT SAGA: ECLIPSE has a release date set for June 30, 2010.