"Twilight" Author Stephanie Meyer Confirms Mackenzie Foy's Renesmee Casting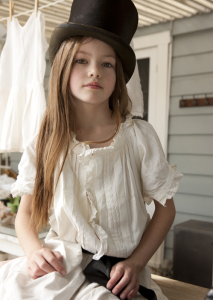 "Breaking Dawn" has it's newest cast member in nine-year-old Mackenzie Foy, who will be playing the child of Kristen Stewart's Bella and Robert Pattinson's Edward in the Twilight Saga sequel. Author Stephanie Meyer announced on her Facebook Wednesday night that Foy would be joining the cast as half-vampire/half-human Renesmee.
"Congratulations to the Twilight Facebook Fan Page! 15 million fans! You guys never cease to amaze me.  In other news… Very excited about our new Renesmee, Mackenzie Foy. She's an amazing young actress and I'm excited to work with her.  I hope everyone had an enjoyable summer!" posted Meyer.
Foy joins actors Maggie Grace, Mia Maestro, Christian Camargo, Casey LaBow, and MyAnna Buring who were cast last week in various roles in the final book's production.
Despite the first three films coming out in rapid succession, the next film in the series does not hit theaters until November 18, 2011, and the second part of the film is due out a year later.
What do you think of this casting? Let us know in the comments!