TV Review: 'Eastbound and Down' S04E03 "Chapter 24" and S04E04 "Chapter 25"
Chapter 24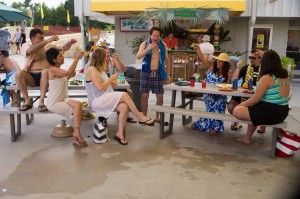 Last week's episode of Eastbound and Down was hands down the best of the season, and one of the funniest in a while. Kenny Powers is up to his old tricks. Now that he is a television star on Sports Sesh, he is throwing his money away. He buys is daughter a Prada backpack, his wife a scented candle, and his son a real-life wolf. Some of the funnier scenes of the episode involve Kenny showing his newly purchased animal to his family. His son petrified of the wolf, April scared to death, while Kenny and the wolf seem to have a mutual understanding of each other. Both are wild animals that are not meant to ever be caged. The scene of Powers' cursing at the wolf is quite hilarious.
Kenny also purchases a dancing robot, he names Yule. "Go about your journeys, Yule," may be the line of the season so far. Kenny dances with the robot, celebrating his new found fame on television.
To celebrate his new found fame, Powers' takes his loved ones, minus his brothers family, who we see for the first time in a couple years all grown up, to the water-park. It's there where April shows that she can get loaded and raise as much hell as Kenny when she is wasted. Downing shots and bonging beers, April is in rare form this week. Also on a path of terror is Stevie, Powers' devout associate. Stevie drums up the laughs early on, as he celebrates Kenny's new role on Sports Sesh by punching through a car window.
The episode isn't all fun and game though, as we are reminded of Kenny's destructive past. It's clear that Kenny may be a family man now, but he is still fighting the demons that ruled his baseball career. The ending of this week's episode is a possible glimpse into the future, in that there may be trouble on the horizon for Kenny and April. Is Kenny getting bored with his life as a husband and father? One thing is for sure, this season of Eastbound and Down will be anything but boring.
 Chapter 25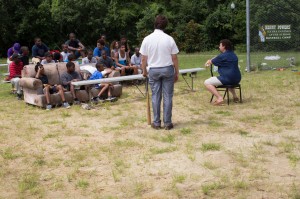 This week's Eastbound and Down may not have been as hysterical as past episodes, but there were just enough laughs to keep the viewer entertained. The episode also proved to be positive when exploring Kenny's relationship with Guy Young. It seems destined that Kenny and Guy will eventually butt heads and Kenny will have to dispose of the Sports Sesh host.
Much like most of this final season, when Kenny looks to be right on the verge of going on the straight and narrow, he can't complete the transition. This week it looked like Kenny was about to confess his drug use and attempted adultery at last week's water-park outing, but instead he turned the tables on his lame neighbors who failed to invite him and April to Spaghetti Night. He accused his neighbor Gene of having "unprotected oral sex" while fellow neighbor Tel watched and pleasured himself. This was just another crude gesture on Kenny's behalf, which shows he is not willing to go on the straight and narrow.
Perhaps the funniest part of the episode this week involves Kenny's friend Stevie finding a charity for Kenny to represent in the Dragon Boat Races. When asked about his charity, Kenny simply says he has "little black kids." Stevie and Kenny give a speech to a group of unexcited kids on a dilapidated baseball diamond, where Kenny uses just about every piece of Ebonics there is to show off for the underprivileged kids.
"Kemosabe, you're showing brain," has to be one of the funniest lines of the season so far. Kenny just nonchalantly said it to an Asian man who was working at the Dragon Boat Races. It's lines like this that make the show worth watching week after week.
With the tension between Kenny and Guy about to hit an all-time high, there are sure to be many more one liners to come this season.