TV Preview: Spartacus: Gods of the Arena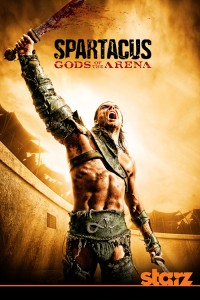 With the success of cable network original programming like "The Sopranos", "Dexter" and "Sex and the City", it wasn't long before it seemed almost every cable network had at least one flagship original program. Many of them have come and gone, or faded back into the vaults of their respective studios. While "Spartacus: Blood and Sand" has only aired one complete season, it was favorably reviewed by critics and loved by fans. Airing on the STARZ network, "Spartacus: Blood and Sand" tells the epic story of the gladiator Spartacus' rise to power as only premium cable can deliver, full of violence, gore and nudity. Because STARZ doesn't boast the subscription rates of HBO or Showtime, many didn't have the ability to watch Spartacus until it was released on DVD and Blu-Ray this past September. Which is unfortunate because without the core storylines to reference, the upcoming six-part miniseries prequel "Spartacus: Gods of the Arena" will likely pack less of a punch.
The House of Batiatus is on the rise, basking in the glow of its infamous champion Gannicus, whose skill with a sword is matched only by his thirst for wine and women. These are the times a young Batiatus has been waiting for. Poised to overthrow his father and take control, he'll freely betray anyone to ensure his gladiators are in the highest demand. And he'll have his loyal and calculating wife Lucretia by his side for every underhanded scheme, drawing on the brazen talents of her seductive friend Gaia when it counts. Together, they will stop at nothing to deceive the masses, seize power, and bleed Capua dry in this audacious prequel to "Spartacus: Blood and Sand."[Soft Break][Soft Break]Premiering, January 21 "Spartacus: Gods of the Arena," the highly anticipated prequel to "Spartacus: Blood and Sand," tells the story of the original Champion of the House of Batiatus. Joining returning stars, John Hannah (The Mummy, Four Weddings and A Funeral) as Batiatus, Lucy Lawless ("Xena: Warrior Princess") as Lucretia and Peter Mensah (300, The Incredible Hulk) as Oenomaus, will be additional cast members Dustin Clare ("Underbelly") as Gannicus, Jaime Murray ("Hu$tle") as Gaia and Marisa Ramirez ("General Hospital") as Melitta.
"Spartacus: Gods of the Arena" was conceived as an expansion of a single flash back episode when "Spartacus" actor Andy Whitfield was diagnosed with non-Hodgkin lymphoma and deemed unable to continue filming the primary story arc.
If you haven't had the pleasure of seeing "Spartacus: Blood and Sand" treat yourself and "do as the romans do" – either rent it or buy it. I promise it is not boring and equally appealing to both sexes. If you like it (and I'm sure you will) consider shelling out the $10-$20 to get STARZ for a couple months, it's cheaper than buying it later and you get a ton of movies to go along with it.
"Spartacus: Gods of the Arena" premieres on STARZ on January 21st at 9:00 CST.