"Tron: Legacy" 10 Week Countdown, Sneak Peek and New Footage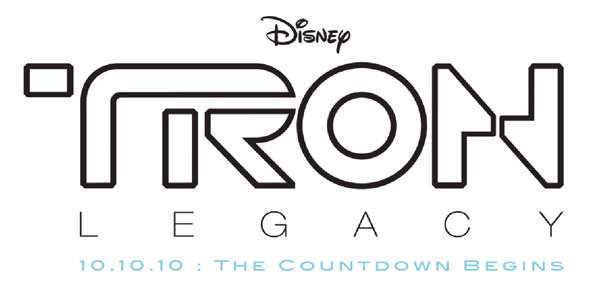 Yesterday, on October 10, 2010 (10-10-10), Walt Disney Studios announced the start of their official 10-week countdown until the release of "TRON: Legacy."
The highly anticipated sequel to the 1982 film "Tron" is set for release on December 17, 2010. Each week during the 10 week countdown, Disney will announce new events, footage, and other special features related to the new movie. Here are some of the announcements on the list:
TRON Night: An IMAX 3D Experience, a special event on October 28, 2010, that will give audiences worldwide the first opportunity to step onto the Grid and into the cutting-edge, 3D world of Walt Disney Pictures' high-tech adventure "TRON: Legacy," during an exciting 20-plus-minute sneak peek of the highly anticipated film, sponsored by Asus Computer International.


Tickets to the October 28th TRON Night events are free and will be distributed for US and Canadian screenings on a first-come, first-serve basis starting 10:00 a.m./PDT on the first "TRON Tuesday," October 12, 2010. Information for U.S. and Canadian ticketing can be found on Facebook.com/TRON.

"TRON Tuesdays"— every Tuesday for the next 10 weeks, exclusive new video and film content, including behind-the-scenes exclusives, trailers and artwork, will be released around the world online and through select broadcast outlets. To get the latest on "TRON Tuesdays" and more, visit Disney.com and Facebook.com/TRON.
"10-10-10" also marks the launch of Disney.com's TRON: Get on the Grid Sweepstakes, featuring hundreds of prizes including a Grand Prize Trip for four to experience ElecTRONica, the new street celebration at Disney California Adventure™ Park. Details and official entry rules are available at Disney.com/TRONsweeps.
Walt Disney Records will release the "TRON: Legacy" official motion picture Soundtrack, scored by the French electronic music duo Daft Punk, on December 7th.
In addition to new merchandise arriving to stores this month, Disney Consumer Products will debut exciting, new "TRON: Legacy" products and promotions, including a special line for women, a one-of-a-kind immersive retail destination for products and a unique gadget line for music and gaming fans.
On December 7th, Disney Interactive Studios will launch the next-gen video game "TRON: Evolution" for all major home video game consoles, Windows PC and handheld platforms.
Disney Parks is celebrating "TRON: Legacy" with ElecTRONica, a nighttime street event at Disney California Adventure™ Park, featuring a dynamic visual- and music-based experience, a re-creation of Flynn's Arcade and an opportunity to see a special 3D preview of "TRON: Legacy." ElecTRONica runs from now until April 2011 every Friday, Saturday and Sunday night and nightly through the Thanksgiving and Christmas holiday periods.
About "Tron: Legacy" —
"TRON: Legacy" is a 3D action-packed adventure set in a digital world unlike anything captured on the big screen. Sam Flynn (Garrett Hedlund), a rebellious 27-year-old, is haunted by the mysterious disappearance of his father Kevin Flynn (Oscar® and Golden Globe® winner Jeff Bridges), a man once known as the world's leading video-game developer. When Sam investigates a strange signal sent from the abandoned Flynn's Arcade—that could have only come from his father—he finds himself pulled into a world where Kevin has been trapped for 20 years. With the help of the fearless warrior Quorra (Olivia Wilde), father and son embark on a life-or-death journey across a visually stunning universe—created by Kevin Himself—which has become far more advanced with never-before-imagined vehicles, weapons and landscapes, and a ruthless villain who will stop at nothing to prevent their escape.
"TRON: Legacy" is directed by Joseph Kosinski, from a screenplay written by Eddy Kitsis & Adam Horowitz, based on characters created by Steven Lisberger and Bonnie MacBird. Presented in Disney Digital 3D™ and scored by Grammy Award®–winning electronic music duo Daft Punk, "TRON: Legacy" hits theaters on December 17, 2010.
Watch the Trailer for "Tron: Legacy"
[hdplay id=170 width=595 height=375]