Top 5 Movie Scenes at the Dinner Table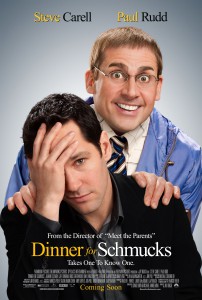 "Dinner for Schmucks," a remake of the 1998 French comedy Le Dîner de Con ("The Dinner Game") comes out this Friday. From the trailer, most people know the basic plot: businessmen bring loser types to a dinner party to make fun of them. In anticipation for this film, this weeks top five will be the five best scenes at the dinner table.
5. "The Break-Up"
I think this might have been the only part in this film that I laughed. I just thought the film was dumb and depressing. I think John Michael Higgins is a fantastic actor, and I can not imagine anyone else pulling this off quite as well. Plus, this Yes song is awesome.
4. "Meet the Parents"
I love this movie. I love De Niro doing comedy. The facial expressions through this scene are priceless. Ben Stiller trying to warm his potential in-laws hearts with a story about milking a cat sounds completely dumb. But it absolutely works. The prayer that Stiller says is hilarious as well with him reciting the lines from a song in the musical Godspell.
3. "Little Miss Sunshine"
The actors all do a fantastic job in this film. Alan Arkin won the Oscar, of course, but I really felt this was an ensemble film in every sense. What starts out as just a family dinner soon turns ugly. First, Grandpa is opposed to fried chicken, again. Then we learn why Uncle Frank tries to kill himself. In the midst of that, we discover Uncle Frank is gay. Seems like a normal dinner for a seven year old girl.
2. "Wedding Crashers"
When I saw Wedding Crashers for the first time I was sitting in between my parents. Now to some this may be awkward, but for me I feel like if I can make it through the oral sex class in Old School I can make it through anything. I think this film is absolutely hysterical, but nothing tops this scene in the whole film. Best line, "Holy Shh.." "Shirts and Pants. Holy Shirts and Pants. It's a little corny and obvious…"
1. "What About Bob?"
It is so easy to fall in love with Bill Murray in this film. Like Wedding Crashers, this is my favorite scene in the film. Richard Dreyfuss is also a great actor, and though it is hard to like him in this film, you can understand where he is coming from at some points.
What do you think? Were any of your favorites left off the list? Let us know in the comments.