This Weekend In History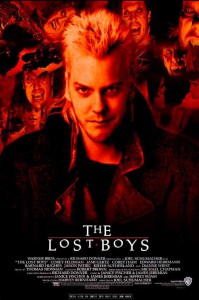 The year was 1987, and the cinema was graced with a fantastic weekend. Two new releases came out that weekend, The Living Daylights and "The Lost Boys." It's easy to get excited for a new James Bond film, and I am personally a fan of Timothy Dalton as Mr. Bond. I just watched "The Lost Boys" for the first time last summer, and while it is dated, it is still a fun vampire flick.
So how did these two films fare at the box-office? "The Living Daylights" came in number one with $11 million. It continued on to make $51 million in its theatrical run. "The Lost Boys" finished in second making $5 million. Obviously, these numbers are less than a typical number one film on a given weekend, but for the time this was a very good opening weekend
This weekend we don't really have any films that compare to these two. "Dinner for Schmucks" will ride on the trailers which have been pretty funny so far and the latest successes of Paul Rudd and Steve Carrell. While "Charlie St. Cloud" will most likely only attract the teenage girls who want to see Mr. Efron with his shirt off. "Cats and Dogs: The Revenge of Kitty Galore" will hit all of the kids and families.
My prediction for the weekend: "Inception" barely holds on to number one for the last time. "Dinner for Schmucks" and "Cats and Dogs" battle for numbers 2 and 3. "Charlie St. Cloud" makes number 5 behind "Salt" maybe even lower.
We will see how close I am. What do you think of the films released in 1987? What do you think of the films that came out this weekend? Let us know in the comments below.