"Tonight Show With Jay Leno" Beats "Late Show With David Letterman"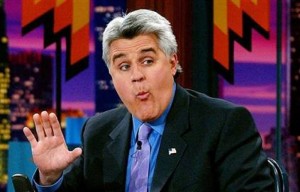 The battle of the late night talk shows continue.  This time Team CoCo is nowhere in sight, because Conan O'Brien won't be back to the airwaves for a while. Jay Leno's return was just as expected, a ratings bonanza.
Leno scored a 5.7 rating/14 share in 56 metered markets last night while Letterman earned a 3.0/8, Nightline, a 3.4/8 and Jimmy Kimmel Live, a 1.8/6. In the 25 markets with People Meters, Leno was No. 1 in the time period, according to the overnights. According to the markets with People Meters Leno was twice as popular with adults than Letterman scoring a 2.0 vs. 1.0.
This really isn't surprising. With the amount of press coverage that NBC received over the last few months because of the debacle over the Tonight Show, it was to be expected that there were going to be a lot of curious people tuning in. The real test is if Leno can keep the ratings up over the next month, or if his image was damaged enough to put Letterman back on top against Leno for the first time in a long time.
Did you watch The Tonight Show last night? Was it better with Jay back? If you are Team Coco do you harbor ill will towards Jay still? Let us know in the comments!