Interview: Tom Linton of Jimmy Eat World Opens up about "Invented" and Crazy Roadside Attractions
Since the mid-90s, radio has embraced Jimmy Eat World – first as a pop-punk-emocore band, and later as an alternative power pop group. The band is touring in support of its seventh album, Invented, which was released last September. We caught up with JEW guitarist Tom Linton on his way across the country to play The Pageant in St. Louis on Saturday, May 28.
---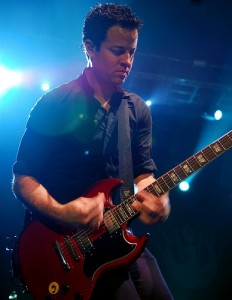 Thanks a lot for doing this. We're excited to have you back in St. Louis!
Yeah, we can't wait to play there!
Do you have any recollections from your last tour that stopped here?
We just had a good show. The crowd is always good there. We've been playing there since our first tour – probably in '95? Ever since we've been going to St. Louis, the shows just keep getting better.
Do you know anything about the local flavor? We have some strange concoctions here in St. Louis, like provel cheese, toasted ravioli and barbecue. Has anyone forced any of that on you backstage yet?
Not yet. I'd like to try them, though!
The Midwest is different from playing the coasts. Have you had any crazy shows in the area?
Yeah, we've played roller skate rinks and thrift stores. We played one time in Texas where there was a big flood, and they ran an extension cord for, like, 100 yards for our amps just to get power. We've played some pretty strange places.
You're touring in support of the new CD, Invented. How have you progressed as a band after the six previous albums?
I think we've progressed a lot. When we first started, we were sort of a pop-punk band. I think our influences – the current bands that we listen to, like Afghan Whigs and Built to Spill – have helped shape our music. I think we've gotten a lot better. Just being in the studio a lot has helped us find new sounds. We kind of know more about what we want to do when we go to the studio more than we had in the past.
Do you still feel like you have that sense of wonder and discovery that you felt when you first started out?
Yeah, definitely. Especially for the lyrics on our new record Invented. As Jim came up with lyrics for some of the songs, he'd open up a photo book, look at photographs and write lyrics around the photos. I think that was an interesting thing that he did that he's never done in the past.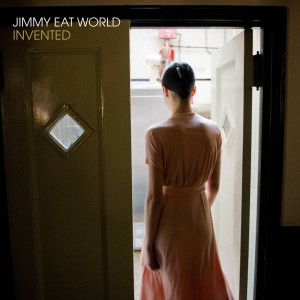 What is your favorite Jimmy Eat World album, and what is one song you wish you'd never have to play ever again?
It's always the new record that we're the most excited about. We don't really dislike playing anything. People ask us if we're sick of playing "The Middle," but we're not at all; it still gets a good crowd reaction. If there was a song that we didn't like, we probably wouldn't play it.
What's it like to think "I might have the most illegally downloaded song ever?" How has it all changed with the onset of digital music?
There's nothing really we can do about people downloading the music and stuff. We're just happy that people are still interested in us. People are still showing up and watching us play live. We're happy!
We obviously live in a very connected world now. Do you think social networking has helped grow the band's fanbase even more?
Yeah, all of that stuff helps us a lot. Like with Twitter, we're able to announce our touring. We've done things like leaving signed copies of our records – we'll hide them and fans will go and find them.
Do you take care of all social networking through the band and then shun it personally?
I think Zach runs our Facebook and Twitter updates. I don't mind it. I had a MySpace page a long time ago. I'm probably the only person who still doesn't have a Facebook page. I guess I need to make one.
What was your first concert experience?
The first band that I saw was The Cure. I was in 6th or 7th grade, and I saw them at a place called the Mesa Amphitheatre in Mesa, Arizona. A couple of friends and I just walked over to the theatre and got in, and it's still one of the best shows I've ever seen.
You've had a lot of good bands open for you, and you've had the opportunity to help break new bands. Knowing how hard you've worked, how does it feel to give that chance to somebody else?
It's pretty crazy. I don't know if we're really responsible for breaking anybody, but We Were Promised Jetpacks were a band that we took out on tour with us, as well as Paramore. It's just fun to watch them kind of grow.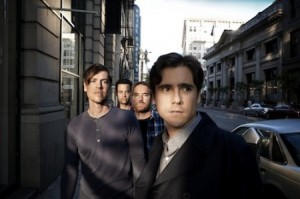 You've been on both sides of headlining tours and providing support for tours. What are the differences? How do you pump yourself up for each one?
They're kind of different. Playing our own shows, we're able to play a lot longer. When we open up for other bands, our sets are usually cut a little bit. We've had the chance to open up for Green Day and Weezer, and it's totally different. We're playing in front of people who might not have heard of us, but we just kind of go out and play the best that we can and not change what we do too much.
You're taking part in a lot of European festivals this year. How does playing the European circuit differ from playing the American festival circuit?
[We played] Coachella a couple months back; that's pretty close to the European festivals. In Europe, a lot of people are camped out for three days. Coachella is the closest thing to European festivals that you can get here. You're just playing in front of so many people. It's crazy.
If you could put together your own little festival of bands, who would you perform with and where would you do it?
Man, that's a good question. I like a band called Spiritualized a lot. [I'd also have] Built to Spill and Calexico, and I'd probably play in Arizona somewhere.
I know you don't get a lot of downtime in cities, but have you been to any of the goofy local landmarks on your tours?
There's something called The Thing just outside of Tucson. I think it's on the I-10, and you'll see signs for 50 miles telling you to check it out. It's this small room with this thing that's supposed to be, like, a mummy. That's probably the weirdest little truck stop museum that we've ever seen.
---
Come see Jimmy Eat World play at The Pageant in the famous Delmar Loop!