Tivoli Midnight Screenings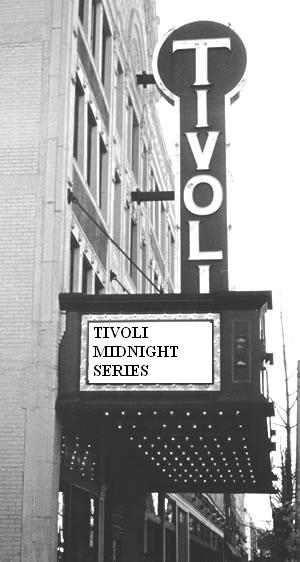 For those of you that live around us in St. Louis, the Tivoli is a great place to see some classic movies on the big screen that you don't get the chance to see anymore.  Cult classics, Hollywood Classics, and more, the Late Night Tivoli Series is a great way to spend your late nights on the weekend through the summer and up until Halloween with the annual screening of The Rocky Horror Picture Show.
Check out the screening schedule below!
July 17-18         GREMLINS
July 24-25         DEADGIRL –  Premiere!  projected on Qube
July 31-Aug. 1   DONNIE DARKO (DIRECTOR'S CUT)
Aug. 7-8            GHOSTBUSTERS
Aug. 14-15        TAXI DRIVER
Aug. 21-22        U2  (National Geographic) – in 3D! admission: $9
Aug. 28-29        LABYRINTH
Sept. 4-5           BACK TO THE FUTURE
Sept. 11-12       PULP FICTION
Sept. 18-19       WET HOT AMERICAN SUMMER
Sept. 25-26       SERENITY
Oct. 2-3            THEY LIVE
Oct. 9-10           ARMY OF DARKNESS
Oct. 16-17         12 MONKEYS
Oct. 23-24         MY BLOODY VALENTINE 3D – in 3D! admission: $9
Oct. 31-Nov. 1 and Nov. 6-7        ROCKY HORROR PICTURE SHOW admission: $10