Tickets Selling Fast for 'The Dark Knight Rises' Midnight Show and Trilogy Marathon at Great Escape Gravois Bluffs
If you still haven't purchased your tickets to the midnight showing of The Dark Knight Rises next week, there is still time! Grab your seats at the Great Escape Gravois Bluffs here.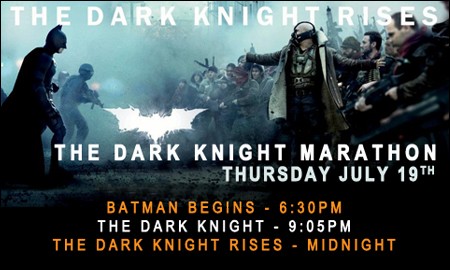 For the biggest Batman fans in St. Louis, the Great Escape is also having a Dark Knight Trilogy marathon! Watch Batman Begins, The Dark Knight and The Dark Knight Rises – all back-to-back! Batman Begins starts at 6:30pm, followed by The Dark Knight at 9:05pm – just $5 each! Then watch The Dark Knight Rises at midnight (regular ticket prices apply).
Note: Midnight shows are filling up quick for The Dark Knight Rises next Thursday, July 19 at 11:59pm. Click here to purchase tickets for the Great Escape Gravois Bluffs in Fenton.
Warner Bros. Pictures' and Legendary Pictures' The Dark Knight Rises is the epic conclusion to filmmaker Christopher Nolan's Batman trilogy, Leading an all-star international cast, Oscar(R) winner Christian Bale (The Fighter) again plays the dual role of Bruce Wayne/Batman. The film also stars Anne Hathaway, as Selina Kyle; Tom Hardy, as Bane; Oscar(R) winner Marion Cotillard (La Vie en Rose), as Miranda Tate; and Joseph Gordon-Levitt, as John Blake. Returning to the main cast, Oscar(R) winner Michael Caine (The Cider House Rules) plays Alfred; Gary Oldman is Commissioner Gordon; and Oscar(R) winner Morgan Freeman (Million Dollar Baby) reprises the role of Lucius Fox. The screenplay is written by Christopher Nolan and Jonathan Nolan, story by Christopher Nolan & David S. Goyer. The film is produced by Emma Thomas, Christopher Nolan and Charles Roven, who previously teamed on Batman Begins and the record-breaking blockbuster The Dark Knight. The executive producers are Benjamin Melniker, Michael E. Uslan, Kevin De La Noy and Thomas Tull, with Jordan Goldberg serving as co-producer. The film is based upon characters appearing in comic books published by DC Comics. Batman was created by Bob Kane.
Our friends at the Great Escape Gravois Bluffs were kind enough to give us a few pairs of tickets for the midnight show to our biggest fans! In order to enter the contest, "like" ReviewSTL.com on Facebook – then leave a comment below telling us why you are the biggest Batman fan in St. Louis. You can post a story, link to a picture of you with a Batman logo shaved into your hair, or whatever it takes to prove you are Batman's #1 fan!
To make sure you won't miss out on The Dark Knight Rises, make sure to buy your tickets here before they are sold out!