Thoughts on Tony La Russa, Retirement From St. Louis Cardinals
It was about when I turned eight or nine that I really started to pay attention to the Cardinals and Major League baseball. Ozzie Smith was my baseball idol; I grew up playing shortstop, always wearing the number 1. He was pretty much at the end of his career by the time I really started paying attention to him, but I didn't care. I knew he was the best fielding shortstop in history.
After Joe Torre got fired, I didn't really pay a lot of attention to the new manager that the Cardinals named to replace him (and the interim manager, Mike Jorgensen) until I found out that he would be replacing Ozzie as the starting shortstop with some guy named Royce.
Who the hell's Royce? He hasn't won 13 Gold Gloves, I remember thinking. Obviously, Ozzie wasn't happy with the decision, and neither was I. Clearly, this manager didn't know what he was doing.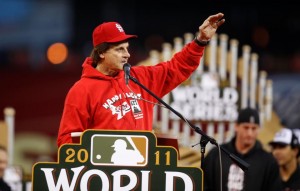 Sixteen seasons later, I can safely say that I was wrong, at least, about that last bit. (I still think Ozzie should have been the starter, dammit.) I was sad to see Ozzie retire after the season (I still remember his final at-bat, a foul out to right as a pinch-hitter), and I bore some ill will toward the manager that ran him off. Now, though, I'm sad to see that man, one Tony La Russa, walking off into the sunset.
Few people can claim that they've changed the game of baseball. Babe Ruth ushered in an era of power hitting when he shattered home run records (at times, he hit more home runs than every team in the American League). Bob Gibson and Denny McLain were so dominant in 1968 the leagues mandated the lowering of the pitching mound by five inches. Ray Chapman was the unfortunate catalyst behind ushering in the live ball era when he died after being beaned in the head in 1920.
Nowadays, when you watch a baseball game, chances are good you won't see a pitcher throw a complete game. There's a good chance you won't see some pitchers even complete an inning. The idea of a pitching specialist wasn't invented by La Russa, but he refined the idea to the point that some roster spots would be taken up by a pitcher who would face only one or two hitters (hello, LOOGY [Lefty, One Out GuY]). Tony took the idea of a closer, who often pitched two or three innings, and was key in reducing the role to a one inning assignment.
Tony took the idea of the team being a family and ran with it. He was extremely loyal to his players [those not named Colby Rasmus, anyway]. While he demanded accountability from his players, he was quick to deflect negative attention from them and place it on himself. Think of game 5 of the World Series. What's the first thing you think of? Phonegate? Tony's not being able to get the right pitcher to the mound, probably? It wasn't the fact that the team went 1 for 12 with runners in scoring position?
He earned the respect and loyalty of his players. Just ask Lance Berkman, who admitted that as an Astro, he wanted to hate the Cardinals; now that he's come here and won his first World Series with them and Tony, he's professed, "We'd run through a wall for Tony." Just ask Albert. Ask any number of players who've come here to finish their playing days with Tony: Will Clark, Jon Smoltz, Larry Walker. Ask the guys who played for him and want to come back as a coach: Mike Matheny, Mark McGwire. Ask Jim Edmonds, who offered to play for free for Tony.
Tony's not perfect. He's definitely made his share of mistakes, and his old-school approach doesn't win everybody over (google Tony La Russa sucks and you'll get 193,000 hits). He's had his share of run-ins with past players (see: Rolen, Scott and Rasmus, Colby). He's been arrested for driving under the influence, to the delight of his detractors. He presided over some rather…chemical-laden teams while professing to know nothing.
It is, however, undeniable that in his time here, he has been one of the greatest managers in Cardinals history, if not the greatest. Just digest this.
Tony was the second manager in the history of the game to win a World Series title in each league. His mentor, Sparky Anderson, was the first.
Tony was the first manager in history to win multiple pennants in each league.
Tony was the second manager in history to win a World Series title in three different decades.
Tony won the third most games in history as a manager, falling just 35 short of tying John McGraw for second most all-time. *
* – Connie Mack won 3,731, but he also lost an astounding 3,948, and had he not been co-owner/owner of the team he was managing, he probably wouldn't have lasted long enough to win that many games. He did win five World Series titles, but his A's also finished dead last seventeen times.
Tony won 1,408 games as the Cardinals' manager, most all-time. In the sixteen seasons he was here, the Cardinals went to the post-season nine times. He won three National League pennants and two World Series here, tied for most all-time for a Cardinals manager.
Just as importantly, he provided a level of coaching stability that's rare nowadays in professional sports. Largely gone are the eras of coaches being around for decades; that's reserved now for college coaches. Tony was the longest-tenured coach in professional sports until he announced his retirement.
In a "what have you done for me lately?" world of sports, managers are hired and fired on a season-to-season basis. People expect results immediately or they want the coach gone; this turnaround can be frustrating and confusing to a team and its fanbase. With Tony here for sixteen years, the Cardinals had a source of stable leadership.
He never was afraid to try something new. He batted the pitcher eighth at times, explaining that he wanted to get three hitters ahead of Albert to get him a better chance to drive in runs.
My favorite Tony managing moment came earlier this season in a game they didn't even win. It was at the beginning of the season when the Cardinals were in San Francisco. The game was tied in the late innings when the Giants got a runner on third. Knowing that anything getting through the infield would score the winning run, Tony brought his left-fielder, Allen Craig, in to play the line at third base. With a crowded infield, the shift worked; the batter grounded the ball right to Craig, who got the runner at third out. The Cardinals eventually lost the game, but thanks to Tony's risk-taking, they fought to play another inning.
Maybe that's what I liked the most about Tony's team. They fought. Odds? What're those?
This year's team was the perfect example of a Tony La Russa dream team. They didn't lead the league in home runs, but they hit the ball hard and led the National League in average, runs scored, on base percentage, and slugging. Their backs were against the wall, but they turned the tables.
Whoever takes his place is going to have some large shoes to fill.
To you, Tony, if you read this:
I didn't always agree with you. In fact, sometimes, I screamed at the television when I saw players you were substituting. If I were manager, maybe I would have made some decisions that would have won games. I probably would have made some decisions that would have lost games.
I cannot say, however, that I could have done more to win than you.
It's said that one person's success breeds another man's contempt. You had the hatred of others on your shoulders, the love of your players in your chest, the respect of your colleagues in your head. I don't think you'd want it any other way.
And now you have a legion of Cardinals fans who will always appreciate what you've done. Perhaps some don't realize it now; I just hope that down the road, they will.
As a member of Cardinal Nation, I don't think there's anything else that I can say that others won't write or say more eloquently. I wish you luck in your future endeavors, be it fishing, working in the front office for a major league organization, promoting hair styling products, whatever you want to do, do it. You've earned it.
Thanks.
P.S. I forgive you for benching my idol.
P.P.S. Maybe.