Theatre Review: Stages St. Louis' Beautiful and Engaging AIDA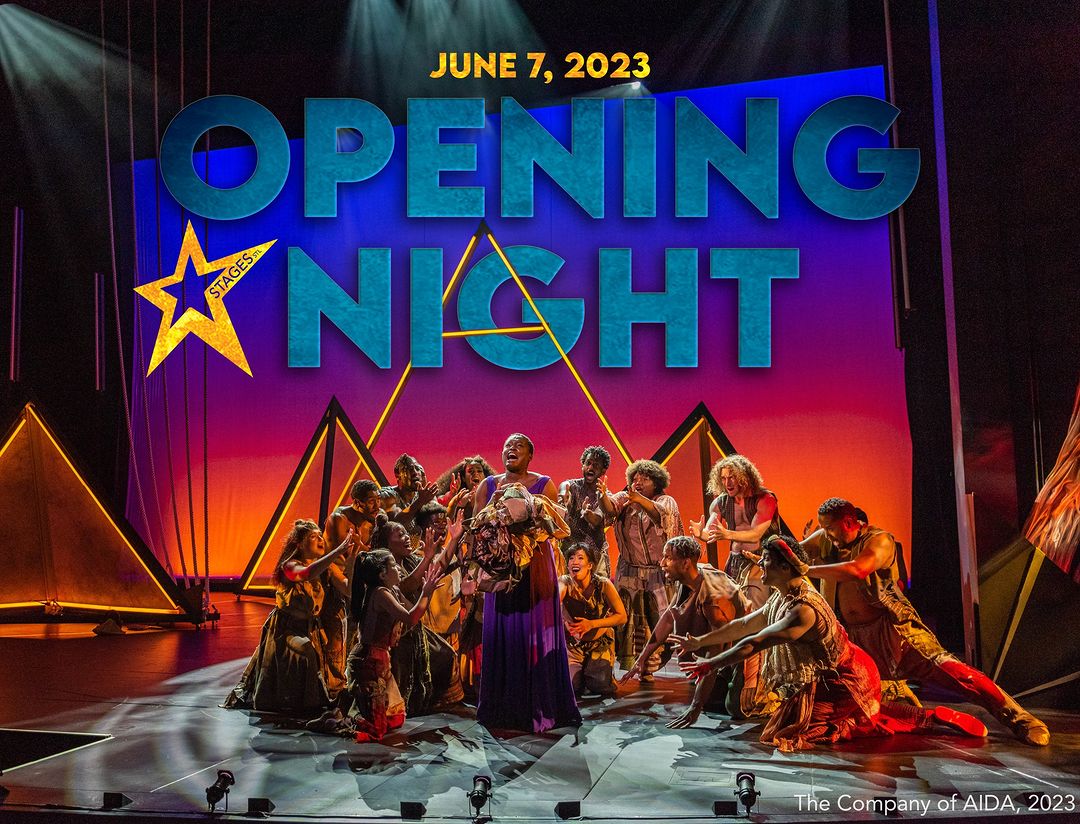 Loosely based on Giuseppe Verdi's opera of the same name, Aida follows the story of a Nubian Princess captured and enslaved during war by an Egypt general. As they learn more about each other, the two fall in love – to perilous consequences.
Tim Rice (lyrics) and Elton John (music) joined with book writers Linda Woolverton, Robert Falls, and David Henry Hwang in 1999 to produce the epic musical. It played for 1,852 performances on Broadway, winning several awards along the way. As with many popular Elton John songs, each musical number tells a story and combined with Tim Rice's deep and thoughtful lyrics, the emotion of the story is told through engaging and memorable songs.
In the Stages St. Louis production, Aida stars Wonu Ogunfowora in the title role. Ogunfowora commands attention every time she is on stage, with a voice that is passionate and strong. As Aida, Ogunfowora brings nuanced emotion to the role of a star-crossed lover caught between her country and the man she loves. She stands out with vocal agility, clarity, and power especially when leading songs combined with the ensemble such as Dance of the Robe and The Gods Love Nubia.
American Idol alum Ace Young plays the other star-crossed love, Radames. He complements Ogunfowora well, especially during the several love songs the two share (Elaborate Lives and Written in the Stars), however, a few of his individual moments come across uneven.
Bringing levity to the show, another American Idol alum, Diana DeGarmo, glows vocally as Amneris – Princess of Egypt and Radamas' betrothed. DeGarmo's comedic timing and delivery of lines bring the audience along with the growth of her character, however, her humorous moments are more memorable than her serious ones.
In supporting roles, Albert Jennings plays Mereb, a Nubian slave. Jennings' voice is powerful and he dances the line between his serious yet comedic role perfectly with a sincere intensity. Ryan Williams is delightful as the villainous Zoser, father to Radames. Jenny Mollet's robust and rich voice outshines those around her when she sings as Nehebka.
The ensemble brings a depth of talent to the production – excelling both vocally and in their choreography. Director Luis Salgado's choreography enriches musical numbers, especially when the ensemble is allowed to show their talent.
A stand out amongst design is Herrick Goldman's light design. The use of light and dark complements a complex story that tips between musical comedy and a show that approaches, but doesn't quite address fully the themes of slavery, racism, and power.
Stages St. Louis' production of Aida is beautiful and engaging. The cast is talented and the updated music and book are beautiful channels to tell the story of star-crossed lovers as Verdi did in 1886.
Of note and highest commendation, during curtain call at the end of opening night, Executive Producer Andrew Kuhlman brought all of those who worked on the production, especially those working backstage, to receive their accolades on stage. It takes hundreds of people to create and execute the vision of a musical and often those backstage don't receive the proper applause they deserve. Well done, Stages St. Louis!
Stages St. Louis' production of AIDA is playing now through July 2 at The Ross Family Theatre at the Kirkwood Performing Arts Center. For more information, visit stagesstlouis.org.