Theatre Review: 'Matilda' Delights With Magical Finish to Muny 101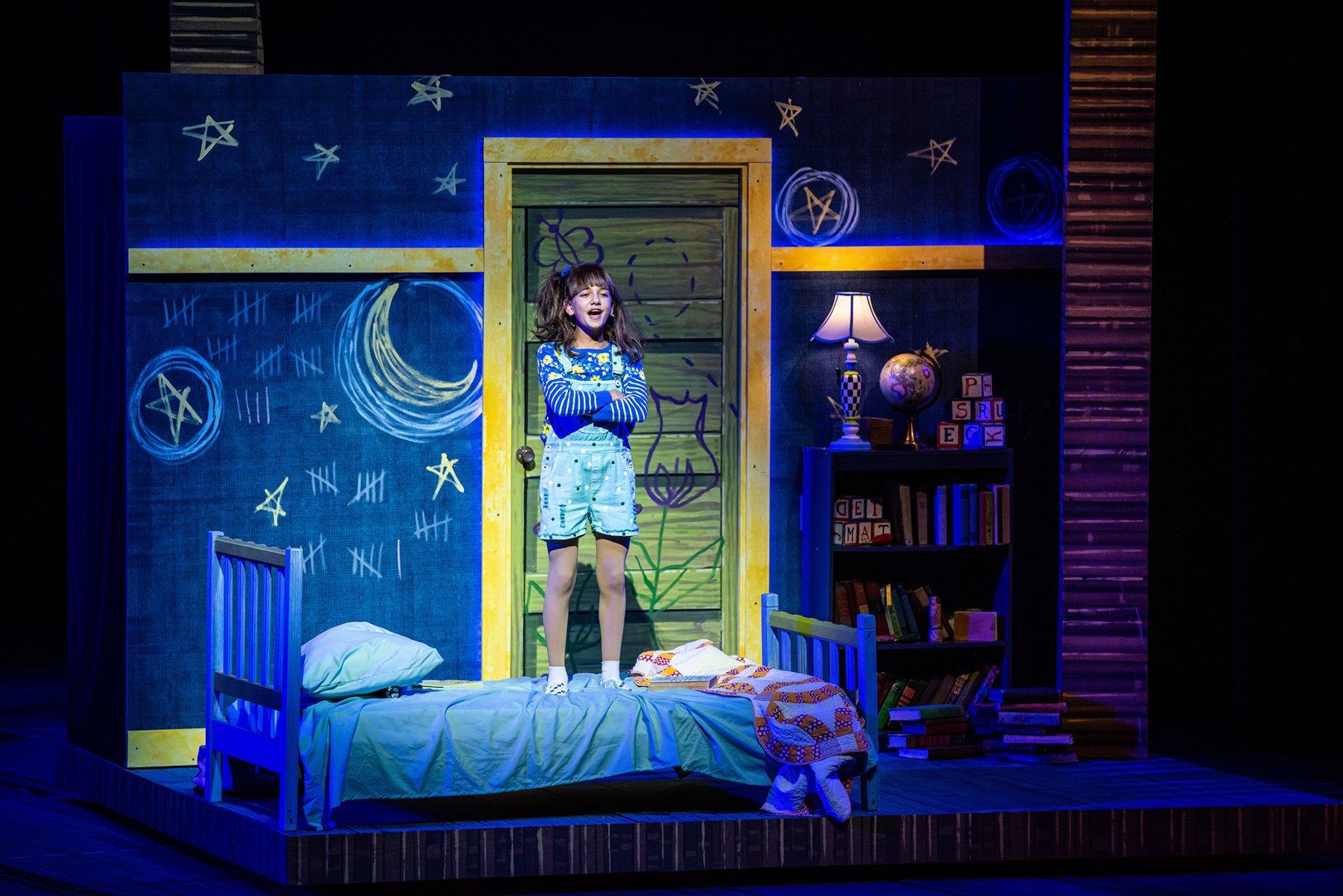 All good things must come to an end.
So is the case with the first season of The Muny's second century. It certainly has been a terrific summer in Forrest Park – but it's not quite over just yet.
Matilda, based on the 1988 Roald Dahl novel, was commissioned by the Royal Shakespeare Company to be adapted into a musical. It premiered in 2010 with a book by Dennis Kelly, plus music and lyrics by Tim Minchin.
Director John Tartaglia brings this heartfelt, clever, and hilarious musical to life with the help of acclaimed St. Louis artist Mary Engelbreit – who worked with the design team on the sets and costumes in the show.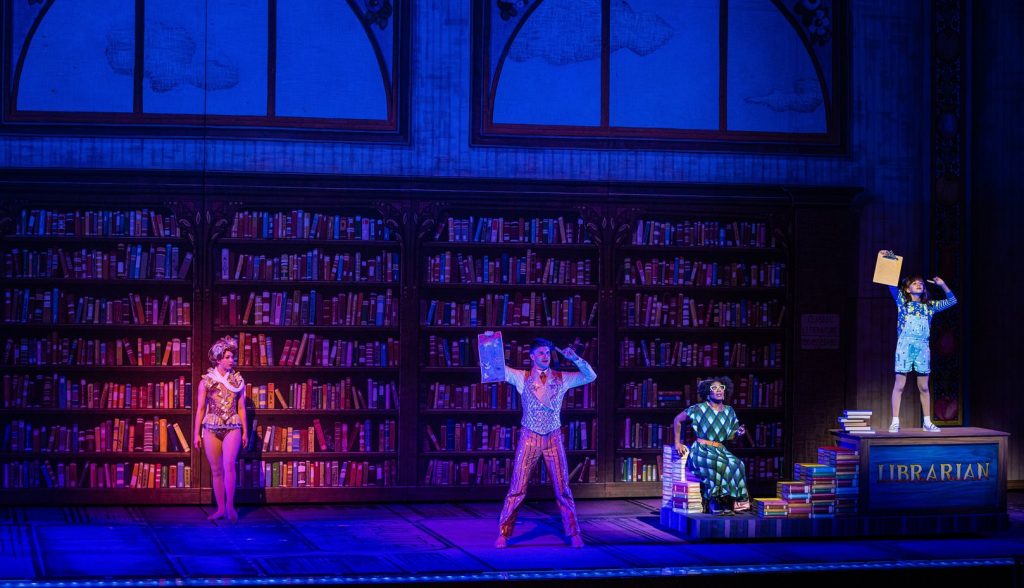 Mattea Conforti plays Matilda Wormwood, an intelligent and caring young girl who was born into a terrible family. Her father (Josh Grisetti) is a grifter disguised as a car salesman, and her mother (Ann Harada) cares more about dancing competitions than anything concerning her family. The only way she can escape her miserable home life is to escape to the library, where she depends on the kindness of the librarian Mrs. Phelps (Darlesia Cearcy) and her books.
Conforti, who played Matilda on Broadway, is brilliant in the role. The actor is an absolute delight, shining like a ray of light every time she appears on-stage. She gives a terrific performance, equipped with a wonderful singing voice. She captures the spirit of Dahl's most beloved character perfectly.
Grisetti is endlessly entertaining as the goofy, slimeball father. The character is meant to be awful, as he constantly berates and belittles Matilda. Yet the clever girl always manages to outsmart her dim-witted father, leading to several hilarious moments of comeuppance. Grisetti is fantastic in this love-to-hate role. He has a fun bit at the beginning of ACT II which starts off improvised and leads into a show-stopping number about his love of television.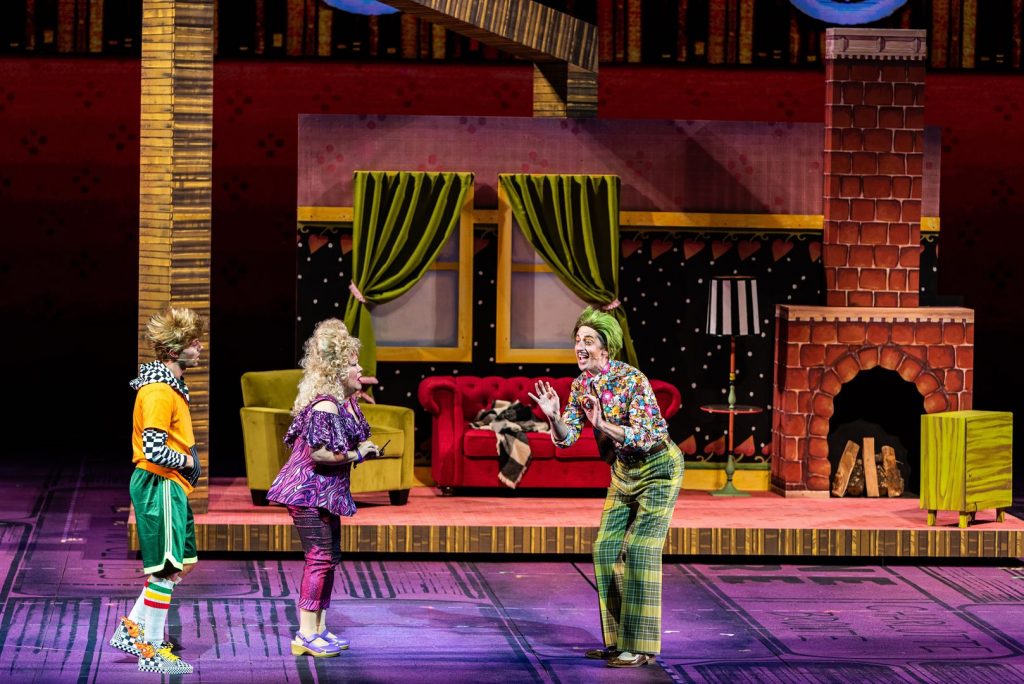 Meanwhile, Harada is equally terrific as the equally horrible counterpart to Mr. Wormwood. She manages to show the audience her character's vanity and absurd nature while constantly bringing the laughs. Her dance number, "Loud," with Rudolpho (Sean Ewing) is great. And Ewing is hilarious in the role as he shows off his gymnastic dancing abilities.
When Matilda starts school, she meets her wonderful new teacher Miss Honey (Laura Michelle Kelly). But that joy is quickly balanced by the cruel nature of the school's headmistress – Miss Trunchbull (Beth Malone). She and her classmates are constantly having to avoid doing anything to upset the nightmarish administrator, who happens to despise children.
Malone is immensely talented, delivering the absurdity of Miss Trunchbull's every action through well-timed delivery and excellent physical comedy. I only wish they could have created more of a height discrepancy between her and the rest of the cast. Traditionally, the role has been performed by a rather large man – helping to make her appear more intimidating through size. I can appreciate not having a man dressed as a woman played for laughs, but the size of this Trunchbull was slightly distracting at times. She appears shorter than Miss Honey (who has heels) and although she still does a good job of conveying the character's evil nature, it didn't have the same impact. With all that being said, the actor gives a wickedly good performance.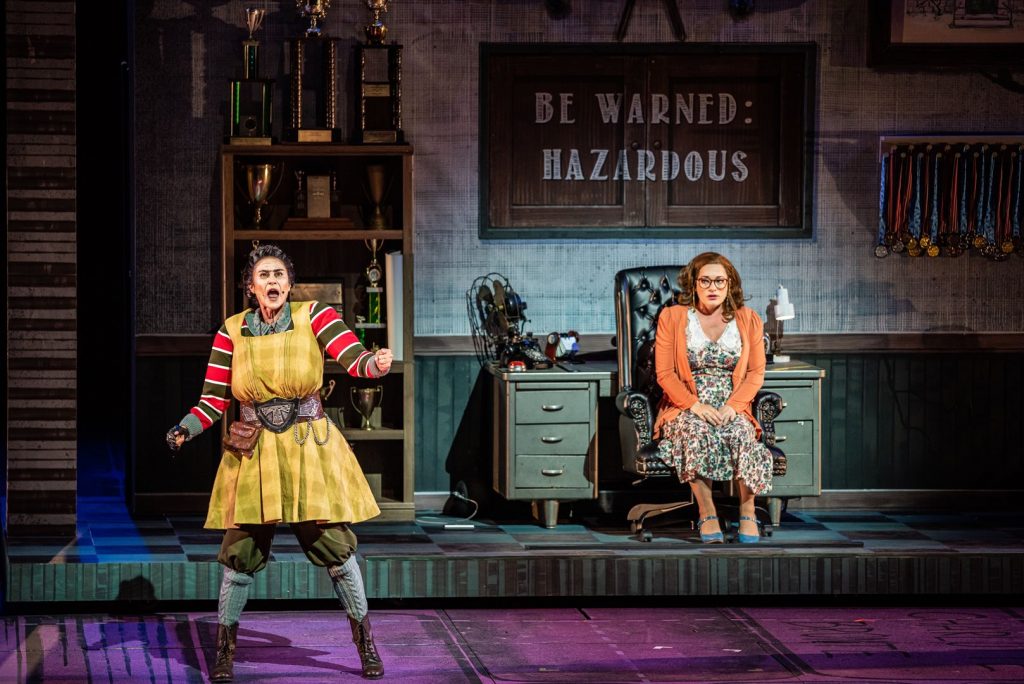 Kelly lives up to her character's name, playing her sweet as honey and beautifully capturing her love for Matilda. The character is the perfect counter to Trunchbull, and the two of them play very well off one another. The actor also has an angelic singing voice, highlighted in "This Little Girl" and "My House."
Paige Hathaway's scenic design is delightful, inspired by Engelbreit's extraordinary creations. It's so fun seeing the artist's trademark style shine through the colorful backdrops, video walls (designed by Nathan W. Scheuer), and sets. And the fantastic costumes by Leon Dobkowski pair perfectly with this lively world.
The choreography by Beth Crandall dazzles when performed by the Muny Kids and Teens. Aside from several fun numbers taking place at school throughout the show, there is a showstopping song at the end of the show with all the kids that's sure to put a smile on your face.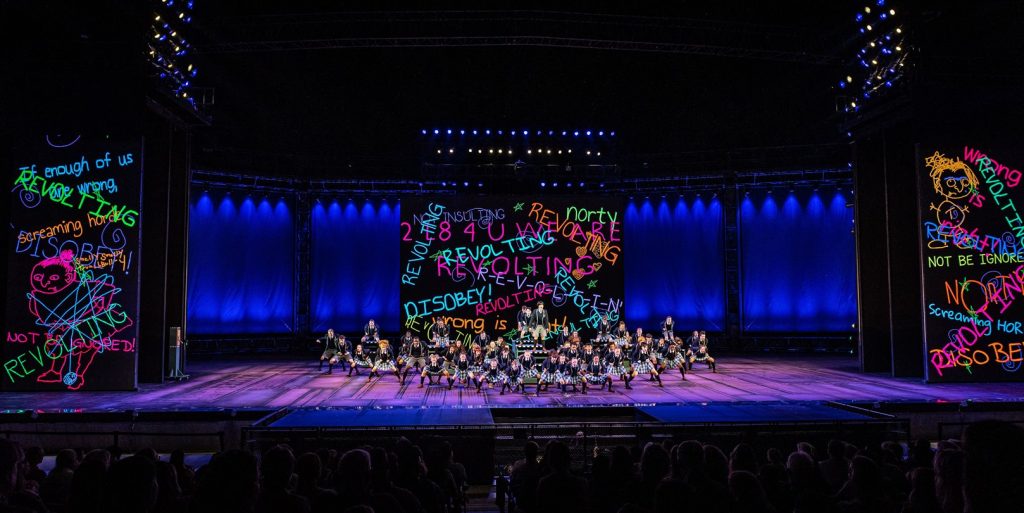 The story of Matilda is a classic, celebrating over 30 years of inspiring young readers. The musical takes everything people love about the story and characters, bringing them to life in spectacular fashion. With plenty of catchy songs, lots of laughs, and a heartwarming story – Matilda is the perfect way to mark the end of summer and the close of another magical season at The Muny.
 See Matilda August 5-11 at The Muny. Tickets are available via MetroTix. For more information, visit muny.org.