Theatre Review: THE LIFESPAN OF A FACT at The Repertory Theatre of St. Louis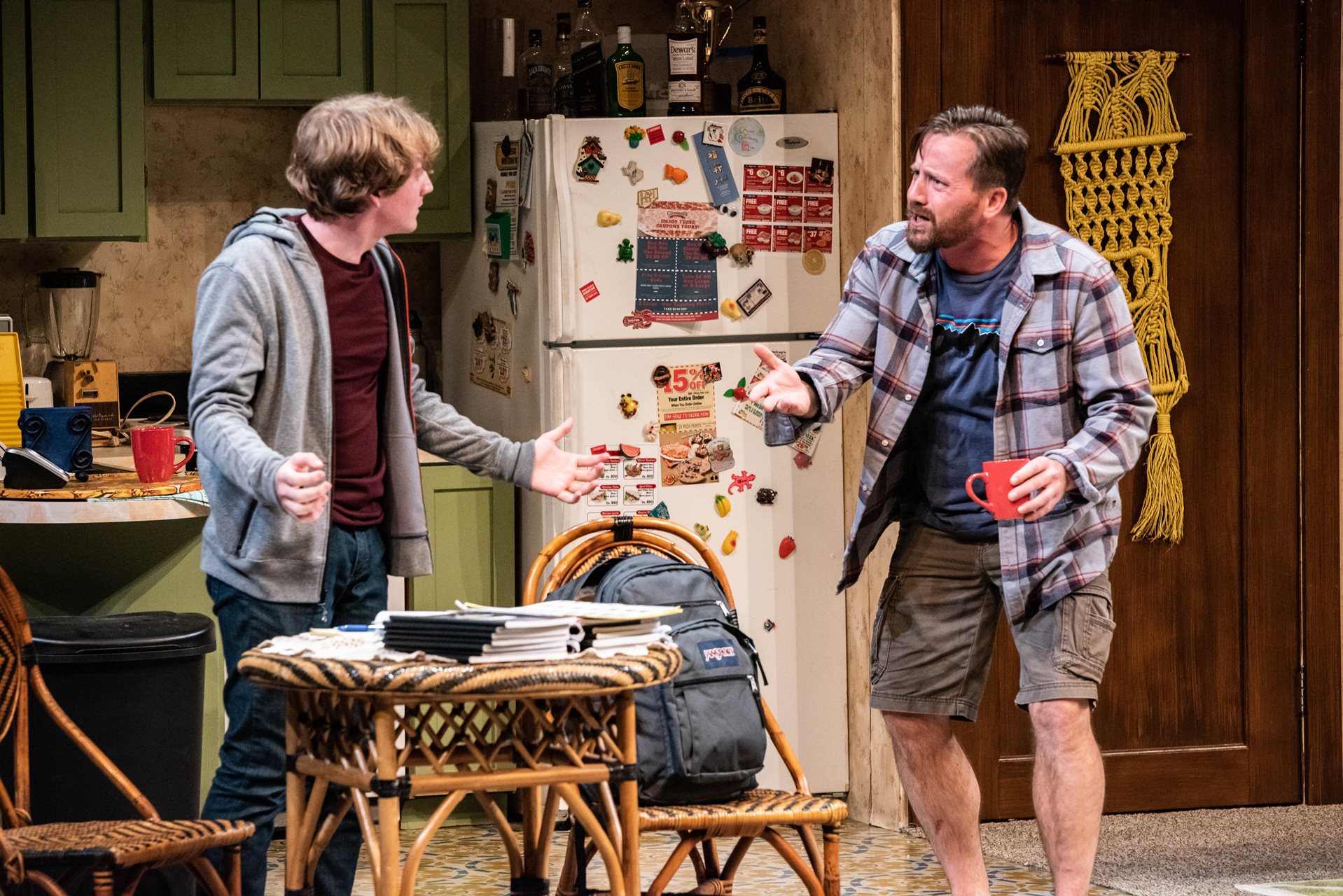 In 2003, author John D'Agata submitted his essay "What Happens There" to Harper's Magazine. After a disagreement between D'Agata and his editors, the essay would eventually make it to The Believer in 2005. But it wasn't until 2010 that the edited version would be published. So why such a long road for one essay to make its way into the world?
This is the premise of The Lifespan of a Fact, adapted from the 2012 novel written by D'Agata and the essay's editor – Jim Finkle. The book chronicles the back-and-forth between author and editor, the result of seven years of debate over facts versus truths. Here in the play, we see a condensed version of the real-life events which play out over the week before the essay's deadline.
Jim Finkle (Griffin Osborne) is a newly appointed intern tasked by his boss Emily Penrose (Perri Gaffney) to fact-check John D'Agata's (Brian Slaten) essay about the 2002 suicide of a Las Vegas teenager. He has until the following Monday to turn in his suggestions, which he feels will be no problem. That is until he reviews the essay that evening and checks it against what few sources and notes the author has left for him. The next morning he comes to Penrose a bit worried but leaves somewhat confident after her pep talk. As days go by, and the deadline looms closer, Finkle realizes that he isn't getting anywhere with what little he has to go on. So he takes it upon himself to fly to Vegas uninvited (and unapproved by his boss), to interrogate D'Agata in person in hopes of finishing his work.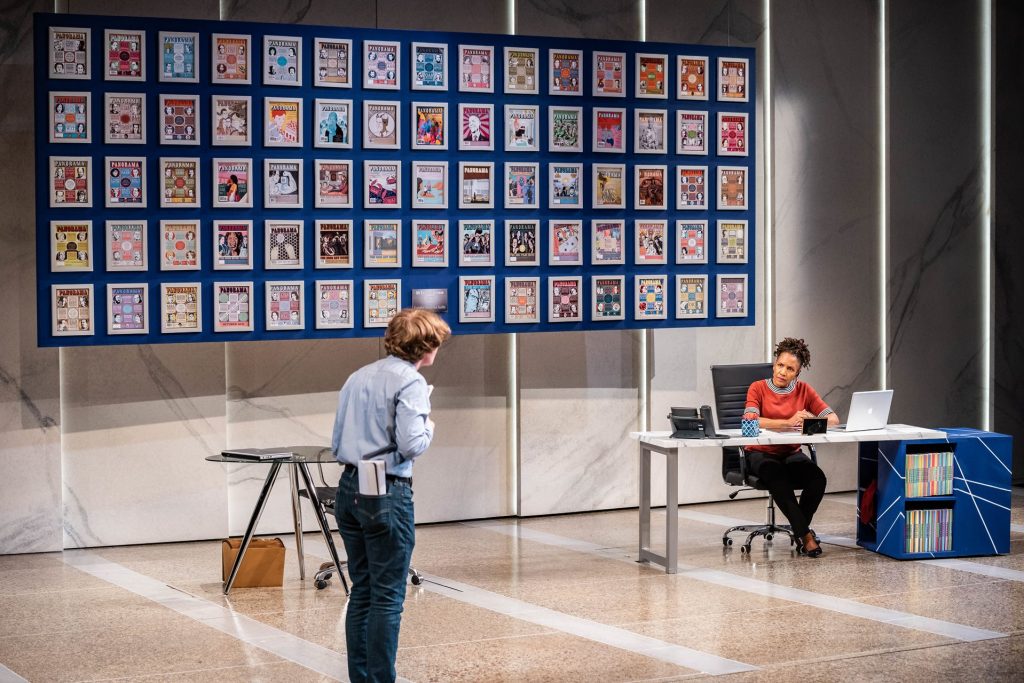 The show is as funny as it is thought-provoking, both traits of which are on display from start to finish. Artistic Director Hana S. Sharif introduced it as one that will get the audience talking, and give them plenty to discuss over dinner. Sure enough, it is a piece of art that sticks with you long after you see it. The anxious, fast-paced delivery of Osborne matched with the impatience of  Slaten's character is a perfect pairing for laughs. Yet within each exchange lives a fascinating discussion about the facts presented in the essay, and each side makes an impressive argument for what constitutes the truth.
Osborne is fantastic as the relentless fact-checker, in pursuit of the truth behind each and every fact he verifies. His character can't let anything go, no matter how small or inconsequential the detail is. His constant nitpicking and anxiety over each detail is cause for many laughs, which land every time thanks in part to Slaten's ability to translate his character's disgust through his body language. You can feel the frustration of the author, as he is forced to deal with someone he has no time or respect for. His delivery is pitch-perfect as his anger comes to a boil, vocalizing his disgust with the editor's inability to comprehend his art.
The talented Gaffney is commanding as the no-nonsense boss of the magazine, whose main goal is to keep the publication alive by selling ads next to quality content. She needs the essay to be ready to publish Monday morning, yet starts to question the validity of these "facts" herself after listening to enough of Finkle's complaints. Her portrayal is wonderful as she walks a tightrope between pleasing her writer and upholding the journalistic integrity that her fact-checker believes in.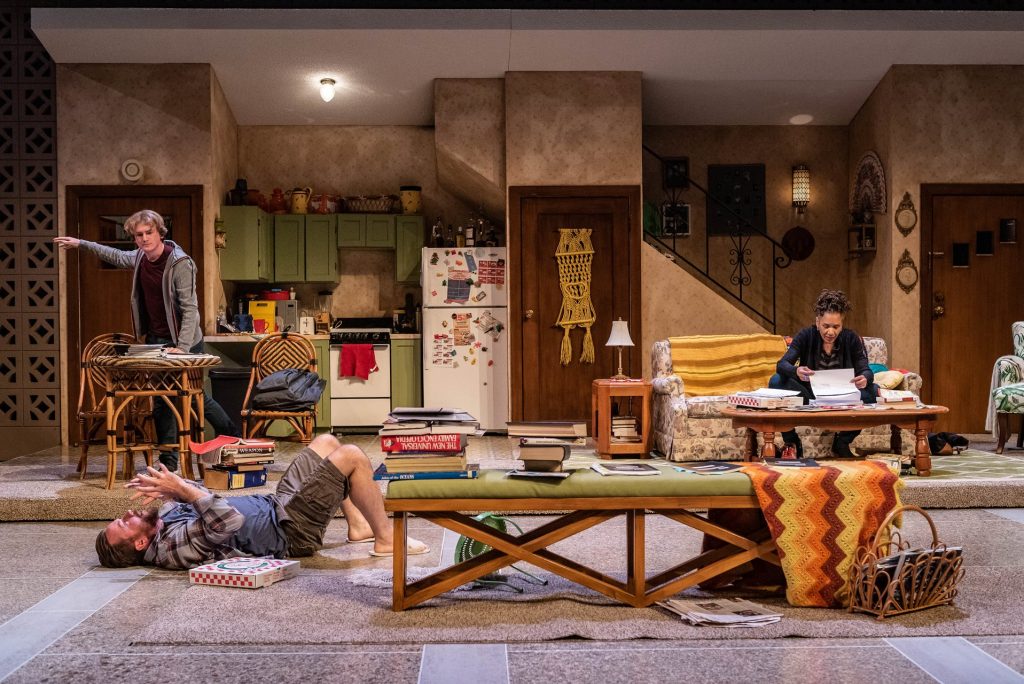 The play clocks in at 85 minutes with no intermission, and flies by for the captivated audience. Director Meredith McDonough has staged the show in a way that is always interesting, with plenty to watch in addition to the wonderful performances by the three leads. The impressive scenic design by Arnel V. Sancianco feels real and lived in, especially when it comes to D'Agata's home. Jerran Kowalski provides fantastic projections to accompany the actors, from showing the passage of time to awkward e-mail exchanges between Finkle and D'Agata.
The Lifespan of a Fact makes for a highly entertaining night of theater in addition to being a fascinating conversation starter for days to come. Filled with lots of laughs, great performances, and an intriguing topic that is more relevant today than ever, this is a show you won't want to miss. And that's a fact.
Playing now through November 10. For tickets and more information, visit repstl.org.
Photos by Phillip Hamer.