Theatre Review: DEAR EVAN HANSEN at The Fabulous Fox Theatre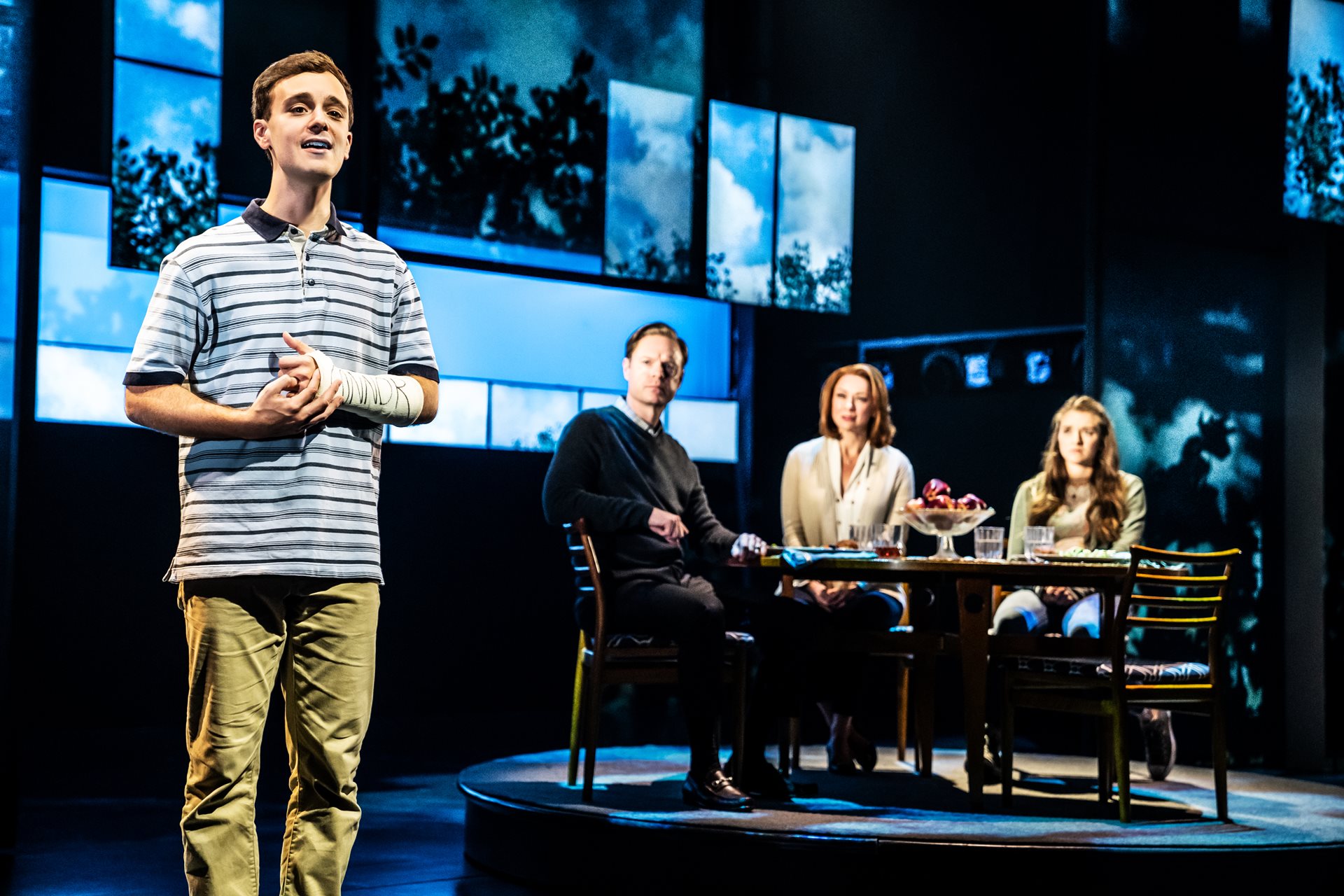 Many people at one time or another have felt like they go unseen, or perhaps they don't matter. It's the premise of Frank Capra's 1946 Christmas staple, It's a Wonderful Life. At the beginning of ACT I of Dear Evan Hansen, the title character sings in "Waving Through a Window,"
Waving through a window
I try to speak, but nobody can hear
So I wait around for an answer to appear
While I'm watch, watch, watching people pass
Waving through a window, oh
Can anybody see, is anybody waving back at me?
The answer is, a resounding, "Yes!" You matter; everyone matters. Although you may feel unimportant or underappreciated, every person makes a difference in the lives of others. Dear Evan Hansen is a fantastic reminder of this through the powerful songs by Benj Pasek and Justin Paul, and a touching story told through unforgettable performances.
Evan Hansen (Stephen Christopher Anthony) is a typical high school kid, with anxieties about making friends and talking to girls. He lives with his mother (Jessica E. Sherman), who is always working to support the two of them on account of his dad being out of the picture. Meanwhile, Connor Murphy (Noah Kieserman) argues with his parents, fights with his sister Zoe (Stephanie La Rochelle), and feels like the joke is always on him. Through a misunderstanding at school, he ends up shoving Evan to the ground – and later discovers a letter written by Evan to himself at the behest of his mother and therapist to work on his confidence. This is the last time we see Connor alive, and a few days later we find out that Connor has taken his own life.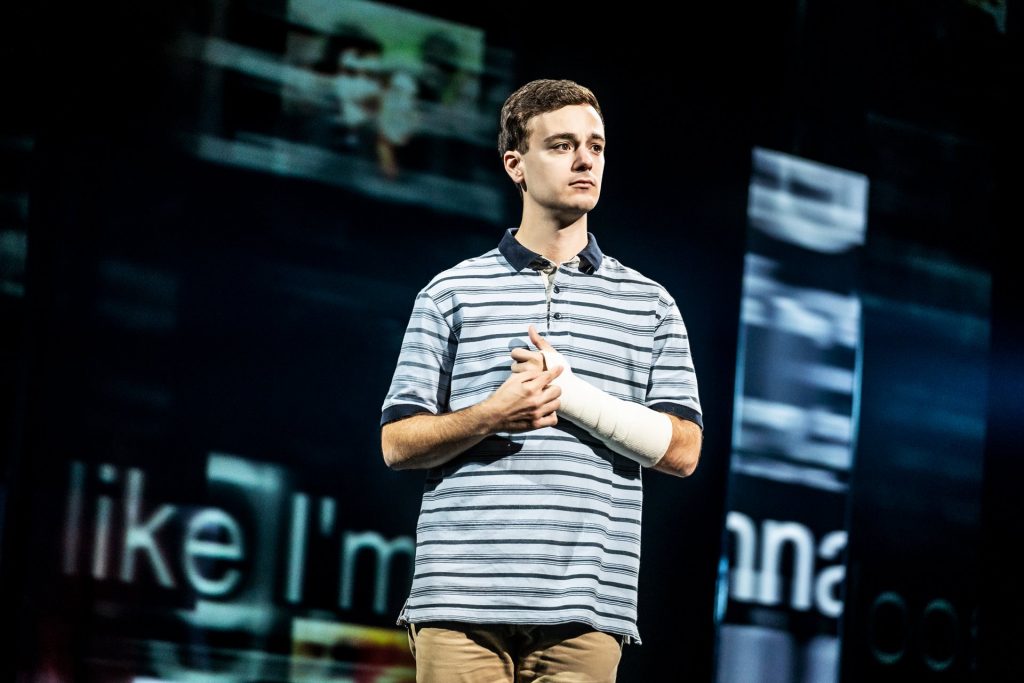 In the letter Connor finds, Evan writes about Zoe – who he has a crush on. Connor thinks that Evan left it for him to find, playing a mean prank on him by talking about his sister. This letter, which Connor takes with him as he hastily leaves school, is the catalyst for the story. Because it is addressed, "Dear Evan Hansen," and is signed as from "me" at the bottom, Connor's parents think it was his last letter to a friend whom they had never heard of. With the help of Evan's cousin Jared (Alessandro Costantini), what starts off as a white lie to comfort the grieving parents spirals out of control as his actions start an entire movement seen around the world.
The show is a classic case of mistaken identity, mixed with a subplot of self-worth and believing in yourself. The songs, written by the Tony®, Grammy®, and Academy Award® winning team of Pasek and Paul (La La Land, The Greatest Showman), are often powerful and capable of moving you in the ways you would hope for. Dear Evan Hansen is a show that you feel, and it's nearly impossible not to connect with at least one of the characters.
Anthony is fantastic in the role made famous on Broadway by Ben Platt. The actor's portrayal feels so honest, and relatable. He is a typical teenager, dealing with teenage issues that most people have dealt with. The character has a good heart, and never lies to be malicious – but he ends up getting in over his head. Anthony has an incredible voice as well, which is necessary to push these songs to the limit for full effect.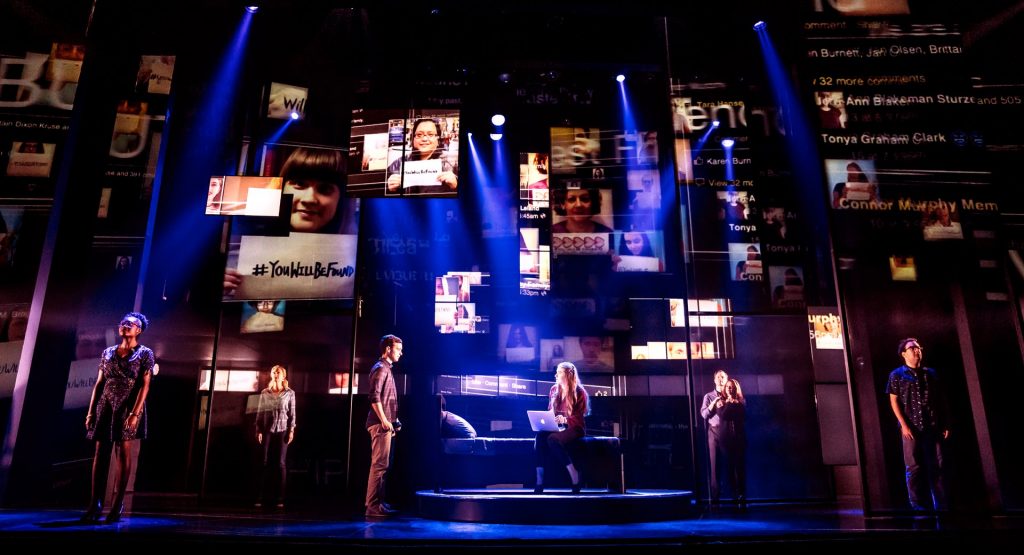 All of the actors who play the Murphy family are terrific. Kieserman does a great job of not only playing the real Connor who is struggling at the beginning of the show, but also Evan's version of the teen who manifests himself through false memories and musical numbers. La Rochelle captures the pain of someone dealing with the death of a loved one, while also exhibiting the spirit of hope and happiness that is still possible. Her pairing with Anthony is full of chemistry. Meanwhile, Claire Rankin and John Hemphill turn in heartwrenching performances as the grieving parents.
Jessica E. Sherman is brilliant as Evan's mother, who is doing everything she can to provide for her family and do what is best for her son. She gives a show-stopping rendition of "Good For You" in ACT II.
Constantini and Ciara Alyse Harris round out the fantastic cast as Evan's hilarious cousin and the highly motivated classmate. Both add lots of laughs throughout the show.
One of the most impressive pieces of the production is the use of video effects. The tour is using the same setup as the Broadway counterpart, and it is a powerful component when combined with the impactful music. The creative layout of screens is scattered across the stage, and there is a lot going on at times when it comes to social media reception to the events of the story. It helps drive home just how much of an impact Evan and "The Connor Project" have – mirroring how much of a difference any one person can make in the lives of others in real life.
Having never seen the show before, I can honestly say I was left mesmerized by Dear Evan Hansen. There's no question as to why audiences are attracted to the touching story and outstanding musical numbers. The tour is hitting the ground running, with a wonderful cast and the story you've fallen in love with by seeing it in New York – or listening to the original cast recording on repeat. "You will be found" is a powerful message, and one that you will undoubtedly never forget after seeing this important musical.
Dear Evan Hansen is playing now through November 3 at The Fabulous Fox Theatre. Tickets are available via MetroTix. For more information, visit fabulousfox.com or the official show site at dearevanhansen.com.
Photos by Matthew Murphy.