'The Walking Dead' #1 Exclusive Cover by Arthur Suydam Free to Attendees at St. Louis Comic Con
Wizard World St. Louis Comic Con 2013 is coming March 22-24!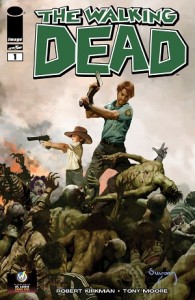 If the first Comic Con in St. Louis isn't enough of a treat, full price attendees are in for another surprise. Issue #1 of Robert Kirkman's Eisner Award-winning "The Walking Dead" will be given away free while supplies last. The exclusive cover is the work of Arthur Suydam, best known for his "Marvel Zombies" series. Suydam, along with over 85 other comic artists, writers and creators, will be on-hand to meet and sign autographs.
This will be the second exclusive cover released, with the first drawn by Michael Golden and given away at Portland Comic Con last week. These are the first two in a series of eight, with a different cover being released at each of Wizard World's Comic Cons this year.
For more information about Wizard World St. Louis Comic Con, visit wizardworld.com.