The Twilight Saga: New Moon Trailer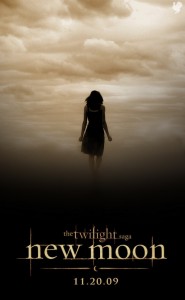 Well, here is the latest trailer for the second installment of The Twilight Saga: New Moon starring Kristen Stewart and Robert Pattinson. I'm not a huge fan of the series and after watching this trailer I don't think I will ever be won over. I read these books about a year ago after someone suggested them to me. I'm not a literature snob, but the books made me wince at how bad they were at times I know I was not the target audience that the books and films were aimed at, but sometimes bad writing is bad writing.  Though there is a market for this thing and I don't want to degrade anyone's choices. To each his own, I'm just not sure that the series deserves the praise it gets.
Studio Synopsis:
In THE TWILIGHT SAGA: NEW MOON, Bella Swan (Kristen Stewart) is devastated by the abrupt departure of her vampire love, Edward Cullen (Robert Pattinson) but her spirit is rekindled by her growing friendship with the irresistible Jacob Black (Taylor Lautner). Suddenly she finds herself drawn into the world of the werewolves, who are ancestral enemies of the vampires, and finds her loyalties tested.