'The Trip' Opens July 1! Enter to Win Passes to the St. Louis Advance Screening!
Enter for your chance to win a pass, good for two!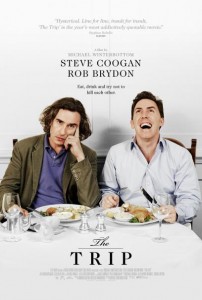 When Steve Coogan is asked by The Observer to tour the country's finest restaurants, he envisions it as the perfect getaway with his beautiful girlfriend. But, when she backs out on him, he has no one to accompany him but his best friend and source of eternal aggravation, Rob Brydon. As the brilliant comic duo, freestyling with flair, drive each other mad with constant competition and showdowns of competing impressions (including dueling Michael Caines, Sean Connerys and Al Pacinos), the ultimate odd couple realize in the end a rich amount about not only good food, but the nature of fame, relationships and their own lives.
Starring: Steve Coogan, Rob Brydon, Claire Keelan, Margo Stilley, Paul Popplewell
Directed by: Michael Winterbottom
In order to enter the contest, become a fan of ReviewSTL on Facebook and share ReviewSTL.com with all your friends (click the "share" link on the bottom-left side of the page). Then upload a video on the ReviewSTL Facebook page, doing your best Michael Caine impersonation! NO PURCHASE NECESSARY. PLEASE REMEMBER TO READ THE RULES!
SCREENING IS THURSDAY, JUNE 30.
Good luck! We hope to see you at the movies!
[hdplay id=370]