Johnny Depp's character in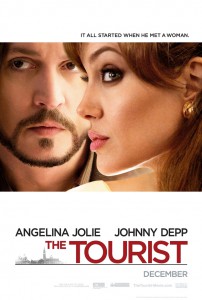 , looks to be the most tame character he's played in years. There is no fanciful accent attached, no over the top gothic wardrobe, just Depp playing a regular joe. However, Jolie is venturing into familiar territory, she looks to be playing another woman of intrigue. She may not be a spy, but her role looks close enough that she should slip in very easily. Needless to say, I'm quite excited about seeing these two talented actors join forces for a film like this.  With their combined star power, the film could easily be a breakout hit over the Christmas season.
Synopsis:
Frank is an American tourist visiting Italy to mend a broken heart. Elise is an extraordinary woman who deliberately crosses his path. Against the breathtaking backdrop of Venice, Frank pursues a potential romance but soon finds himself the pursued as he and Elise are caught in a whirlwind of intrigue and danger.
Starring: Angelina Jolie, Johnny Depp, Paul Bettany, Rufus Sewell, Timothy Dalton
Directed by: Florian Henckel von Donnersmarck
Produced by: Lloyd Phillips, Roger Birnbaum, Roger Birnbaum
Genres: Drama, Thriller and Remake
Release Date: December 10th, 2010 (wide)
[hdplay id=177 width=595 height=375]