The Runaways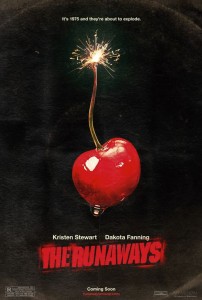 Floria Sigismondi's The Runaways is a dark, messed up, and insane dive into the depravity and pitfalls of fame destruction of age film that yields three very good performances from, Michael Shannon, Kristen Stewart, and Dakota Fanning.
Before the sex, drugs, and rock n' roll  the members of The Runaways were just young girls that loved, praised, and aspired to be the next gods of rock in a male dominated industry.  Joan Jett wanted to be a punk guitar goddess while Cherie Currie wanted to be David Bowie but they would together be a part of something the rock n' roll  community had never seen.  When Jett catches the ear of Kim Fowley, who proclaims himself to be a music producing genius, the duo set out to form the first all girl rock band.  Filling out their band with ample musicians, Lita Ford, Sandy West, and Robin (a fictional character to avoid the drama surrounding a revolving door of bassists) Fowley needs one final piece before he takes this show on the road; a blonde bombshell to sell the sex side of the band.  Enter Currie, a fifteen year old with jail bait sex appeal to spare that is learning the vocal side of things as she goes to become the lead singer and lead icon of the band.  From here the group begins cutting their chops and working up the ladder before breaking out in a huge way.
The film is a rather standard and straight forward biopic content wise.  Linear and focusing on Jett and Currie pre and post band the story is more Cherie's than anyone.  The film is based off Currie's book, Neon Angel: A Memoir of a Runaway, she is given the film's focus in the destructive third act but outside this the focus is split fairly evenly between Jett and Currie.  The films style is no where near as conventional as the structure of the picture and is almost disorienting to an extent as it throws you head first into these girls lives and creates an experience that makes you feel like you are living the whirlwind, drug and boozed filled lives of these teenage stars.  The film skims the surface level of these girls experiences, getting glimpses of them fooling around, sexing it up, doing drugs, and drinking heavily and while it might get into why they acted this way the fact that they did and could is all very overwhelming.  Seeing these young girls, Currie being the youngest at 15/16, dive into a life of such outrageous depravity is almost too insane to believe and the film perfectly captures the insanity of these times.
The look of the film is dark and psychotropic at times and the girls playing the rock stars do a great job at capturing the crazy actions of The Runaways both on the stage and off.  These girls turned into some bad mother f***ers who took shit from nobody and learned to exist in a world where they were disrespected and unwanted.  It is an impressive path that they blazed, taking abuse from every angle, with some of them slowly losing the lives they once knew and the people that were apart of them.  Sigismondi also puts together a hell of a soundtrack for her picture that keeps the film up beat and exciting through the music.
The actors in the film also do some fine work starting with Dakota Fanning as Currie.  Fanning, like Currie, was fifteen when she did this movie and she shows no fear diving head first in the role.  From smoking, drinking, snorting, f***ing, getting it on with a girl, posing scantily clad for photo shoot, and gyrating on stage in a corset and her underwear she does it all and deserves a lot of credit for going all out at such a young age.  She also brings a vulnerability to Currie and her desire to be with her family and does a great job of coming innocent and wide eyed to nearly broken and destroyed fallen star.  Kristen Stewart has a far less dark path to go down but still does a great job at capturing the spirit and bad ass nature of Jett as she says FU to anyone that tries and gets in her way.  Both girls also do a solid job of singing duties and both have a hell of a stage presence in the live performance scenes.  The other standout of the cast is Michael Shannon as the insane and crazy producer/manager Fowley and while he might be one note he is relentless, abusive, and hilarious as he whips these girls into shape rock n' roll shape.  The rest of the cast is adequate and does solid enough work, Alia Shawkat is wasted with nary a line or two, Scout Taylor-Compton is angry as Lita Ford, and Stella Maeve is a lot of fun and adventurous as Sandy West.  The group does a great job of bringing the Runaways to life and capturing the unlikely and crazy rise to fame.
In the end, The Runaways is a solid rock bio-pic that is more focused on the excess of the individuals then what made them tic.  The film doesn't dive into the lives of the band, except Currie but even then it doesn't go that deep, but it successfully captures the insane lifestyle and journey these girls took in their rise to stardom.  The three leads deliver some great work, Kristen Stewart shows everyone she is more than Bella swan if that is all you had seen her in and Dakota Fanning is basically telling the world that she is all grown up and ready for anything.  An obscure band's rise serves as a great cautionary tale of fame and excess and is a showcase for two of the next generations leading ladies.  Too bad a lot of fans of Fanning and Stewart are too young for this very R-rated affair.
The Runaways is a B