THE RUM DIARY Opens October 28! Enter to Win Passes to the St. Louis Advance Screening!
Enter for your chance to win a pass, good for two!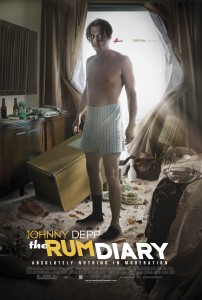 Tiring of the noise and madness of New York and the crushing conventions of late Eisenhower-era America, journalist Paul Kemp travels to the pristine island of Puerto Rico to write for a local newspaper, The San Juan Star, run by downtrodden editor Lotterman. Adopting the rum-soaked life of the island, Paul soon becomes obsessed with Chenault, the wildly attractive Connecticut-born fiance of Sanderson. Sanderson, a businessman involved in shady property development deals, is one of a growing number of American entrepreneurs who are determined to convert Puerto Rico into a capitalist paradise in service of the wealthy. When Kemp is recruited by Sanderson to write favorably about his latest unsavory scheme, the journalist is presented with a choice: to use his words for the corrupt businessmen's financial benefit, or use them to take the bastards down.
Starring: Johnny Depp, Aaron Eckhart, Michael Rispoli, Amber Heard, Richard Jenkins
Directed by: Bruce Robinson
In order to enter the contest, become a fan of ReviewSTL on Facebook and share ReviewSTL.com with all your friends (click the "share" link on the bottom-left side of the page) – telling us why you can't wait to see the movie! Then like the post to complete your entry. NO PURCHASE NECESSARY. PLEASE REMEMBER TO READ THE RULES!
SCREENING IS TUESDAY, OCTOBER 25 AT WEHRENBERG RONNIES 20 CINE (7PM).
Good luck! We hope to see you at the movies!
THE RUM DIARY opens nationwide on Friday, October 28.