'The Reluctant Fundamentalist' Opens May 10 in St. Louis! Enter to Win Passes to the Advance Screening!
Enter to win a pass for two!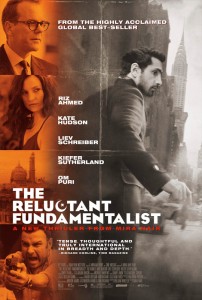 2011, Lahore. At a café a Pakistani man named Changez (Riz Ahmed) tells Bobby (Liev Schreiber), an American journalist, about his experiences in the United States. Roll back ten years, and we find a younger Changez fresh from Princeton, seeking his fortune on Wall Street. The American Dream seems well within his grasp, complete with a smart and gorgeous artist girlfriend, Erica (Kate Hudson). But when the Twin Towers are attacked, a cultural divide slowly begins to crack open between Changez and Erica. Changez's dream soon begins to slip into nightmare: he is transformed from a well-educated, upwardly mobile businessman to a scapegoat and perceived enemy. Taking us through the culturally rich and beguiling worlds of New York, Lahore and Istanbul, The Reluctant Fundamentalist is a story about conflicting ideologies where perception and suspicion have the power to determine life or death.
Cast: Riz Ahmed, Kate Hudson, Liev Schreiber, Kiefer Sutherland
Director: Mira Nair
The Reluctant Fundamentalist has been rated R.
Use the contest app below to "like" ReviewSTL on Facebook  – then tweet, share, or comment for additional entries!
Winners will be chosen at random from all entries. Supplies are limited. Limit one (1) pass per person, passes admit (2) two. Sponsor's employees and their dependants are ineligible. Screening is overbooked to ensure capacity. Please refer to passes for any other possible restrictions. NO PURCHASE NECESSARY.
Screening will take place Thursday, May 2 at Landmark's Plaza Frontenac Cinema (7pm).