Brad Reviews "The Other Guys" Starring Will Ferrell and Mark Wahlberg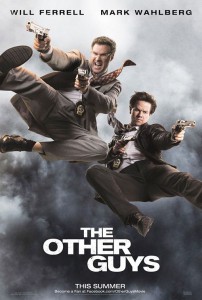 I'm A PEACOCK WHO NEEDS TO FLY LET ME FLY!
St. Louis was awarded The Other Premier for the "The Other Guys" a film that teams Will Ferrell and writer-director Adam McKay for the fourth time. My Wife and I were lucky enough to attend, we didn't get to see much of the red Carpet, but did get to sit inside for 2 hours waiting for Will and Mark to show up(they had a problem with their flight.) Mark and Will came into the Theater Will being himself had some good one liners and took a few questions from the fans. The Theater I was in was filled with local celebrities from the Blues, Rams, and even Ozzie Smith. It was a great time and I know Kevin got some great Video and Photos from the red carpet.
Check out photos and video from the St. Louis premiere.
Now on to the Movie Review! —

The Other Guys may not be as consistent as "Step Brothers," but usually is funnier than "Anchorman: The Legend of Ron Burgundy" and "Talladega Nights: The Ballad of Ricky Bobby." Will has created a classic collection of blowhard idiots and idiocy, and Adam, a writer-director pal from his "Saturday Night Live" days, has always been his best collaborative partner, finding new levels of absurdity to explore. With Will and Adam being the masters of comedy movies, this is the first attempt at comedy for Mark Wahlberg who plays Ferrell's action addicted detective partner. Wahlberg and Ferrell make an inspired buddy cop pairing in this flick. I know what you are thinking another buddy Cop movie? I was pleasantly surprised to see this buddy cop comedy based on something other than irony, insults or humiliation. This is one of the rarest of comedies — inspired by surreal, randomness, all delivered with sincere conviction and all the funnier for it. In an early exchange destined to be memorized and repeated endlessly by fans, Detective Hoitz (Wahlberg), frustrated by being assigned to desk duty, tells off his new partner, Detective Gamble (Ferrell), who prefers the paperwork, using the metaphor of a lion devouring a tuna. Gamble comes back at him with , taking the comment literally, a rationalization of the outcome of what would happen if a lion would try to eat a tuna, and one of the funniest monologes I have seen in awhile!
Hoitz and Gamble work in a precinct where two super cops( Dwane "The Rock" Johnson and Samuel L. Jackson) get all the glory . That's fine with Gamble, recently transferred from forensic accounting (to me the job is funny in itself). Hoitz, who likes to describe himself as "a peacock who needs to FLY!" sits at his desk across from Gamble playing solitaire and getting annoyed by Hoitz and all his humming. At a support group for officers who fired their weapons on duty, we find out why he was reassigned. (Let's just say he shot the wrong guy at the wrong Time!)
The Super Cops are in the movie for about 15 minutes and then one of the funniest scenes I have seen in awhile. If you are going to this film to see Johnson and Jackson they are in the flick about as much time as a cameo. Even though it is a short period Jackson has some great lines that I am sure will be repeated as I believe this film might get a cult following like Ferrell's "Anchorman". After Johnson and Jackson exit the movie, Hoitz (Wahlberg) wants to take their seats, but Gamble wants to stay at his desk. A compromise occurs when Hoitz and Gamble chase a tip on a paperwork violation they stumble upon, a financial crime of unexpected proportions. With the city's super cops taken out of commission, they step up to solve the crime and save the day, much to the chagrin of their captain Glen (Michael Keaton), who can't be expected to clean up their mess and balance his part-time job as a Bed Bath and Beyond store manager. This is a nice rub on our current economic state why would a Captain need two jobs, the reason the Captain gives is funny in itself.
"Other Guys" has some great plot points, such as Gambles being unaware that he's married to a major hot and sexy women, played by Eva Mendes. Such moments are where the movie really scores – the film goes off in such an unexpected direction that you're caught off-guard by how smart it is! The (Bad Guys) in the comedy, is a British millionaire (Steve Coogan) and a Aussie tough guy (Ray Stevenson) who announces he has a thing for Kylie Minogue.
Unlike this year's wretched "Cop Out," "The Other Guys" isn't that interested in slavishly paying homage to cop movie conventions. While there may be a plot to follow and bad guys to find, McKay is more interested in using the genre as a framework for his cadre of bizarre characters to bounce around in.
McKay has a wonderful knack for bringing absurdity to the big screen, both in big comedic moments (Terry and Allen's first car chase) and small expository scenes (the explanation of events that took place in Allen's stolen Prius will make you never hear the words "soup kitchen" the same way again). He's a nimble comedic mind, able to let his actors improvise to great effect and also able to deliver a great sight gag.
This is the second week in a row that I have gone to an adult comedy. Last week's "Dinner" was really funny, as is "Guys". It is hard to say which one I laughed at more. " Guys" is a little more sophomoric comedy than "Dinner" was, but I think "Guys" has more memorable moments and lines. The one problem I had with "Guys" is the last 20 minutes where like a speeding train that's slowly running out of steam, the movie grinds to a halt. All cleverness and wit are tossed aside for shoot-'em-up sequences that play like straight versions of what was just being spoofed.
Buckeye Brad gives "Guys" a B+ the same I gave "Dinner" last week. I think Wahlberg and Ferrell team up to bring us a memorable movie, with lines you will be repeating all weekend after seeing this flick. If you want to see a Comedy this weekend either one of these flicks are great to go and see in this hot summer weather! Stay tuned to Brads facebook page this weekend for pictures and videos from the Decatur Celebration.